Hiking in Cruz de Tejeda is a must for nature lovers! Cruz de Tejeda. Cruz de Tejeda is a well-known meeting point and a pleasant place to make a break on the routes of hikers, cyclists, motorcyclists and travelers who visit Tejeda. Many even start their routes on foot or by bike from Cruz de Tejeda for its ample parking, rural hotels, restaurants and food stalls where you can buy a good sandwich. Below we will give you details of everything you can do in this well-known area of Gran Canaria.
Cruz de Tejeda (cross of Tejeda)
As we said, practically all residents and travelers who love outdoor sports and / or nature pass through Cruz de Tejeda during their visit to the island. Either because they are going to visit the town of Tejeda, the Roque Nublo or Pico de Las Nieves, three essentials of Gran Canaria. Likewise, numerous trails start from here to explore the interior of the island. By the way, below we will share a circular route to go hiking in Cruz de Tejeda that reaches the town of Tejeda.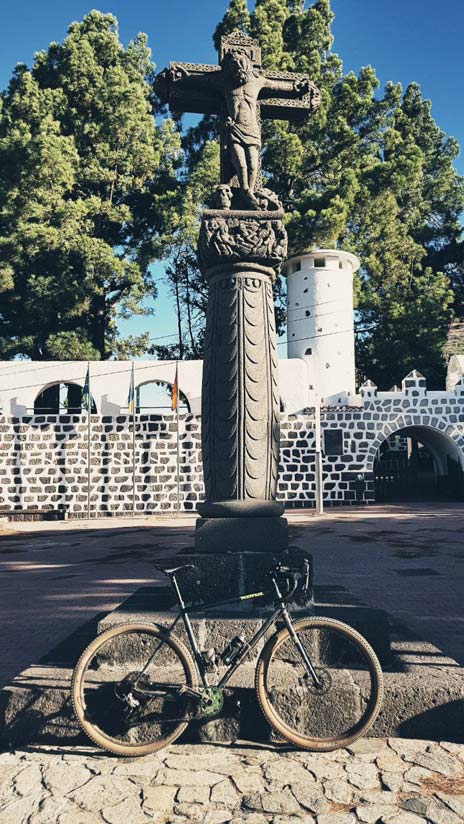 Other clear protagonists of this area of the mountains of Gran Canaria are the mules or donkeys. Here, for a lifetime, its owners invite children to climb up to take a picture and / or caress the animals. We will also see roosters, hens and loose chicks next to the stalls of typical Canarian products. Here you can buy honey from the area, bienmesabe, fruits and vegetables from the country, sweets from Tejeda and sandwiches to recharge your batteries.
At the same time, many travelers come to Cruz de Tejeda to stay at the only Parador in Gran Canaria: the Parador de Cruz de Tejeda. It is a highly recommended experience and one that we as residents have experienced. Finally, next to the Cross or Cruz we find several restaurants where you can enjoy good typical Canarian food.
Keep in mind that Cruz de Tejeda is located at an altitude of 1515 meters and, therefore, one of the coldest areas of Gran Canaria. If you are going to explore this area of the island, we recommend to read the following article.
Hiking in Cruz de Tejeda
We can say that Cruz de Tejeda is the epicenter of hiking in Gran Canaria. From here there are endless trails that reach different points of interest on the island such as the town of Tejeda, Roque Nublo and even Gáldar to complete the last section of the Way of St James of Gran Canaria. We want to share with you the track of a circular route that passes through different villages and rural areas of Tejeda, until it reaches the town of Tejeda.
Then go up other trails passing through Finca La Isa until you reach the starting point. The elevation gain of the route is approximately 700 meters. We leave you the data of the track below and, do not miss the video at the end!
| | |
| --- | --- |
| Distance | 10,2 km |
| Estimated duration | 4 h |
| Total ascent | 724 m |
| Level | Starter-intermediate |
| Circular | Yes |
| Picnic area | No |
Track of the circular route to Tejeda
Below you can download the track of this circular route in .gpx format so that you can follow it on your own without getting lost. If you don't know how to download it and follow it from your GPS or smartphone with the Guru Maps app, we'll explain it to you here. If you want to support us so that we continue to create content for you about Gran Canaria, we will appreciate if you purchase one of our tracks, either to enjoy incredible routes or as a donation.
Here we show you some photos of the landscape that you will find during the route. Don't miss the video at the end if you want to have all the details!
Video: Hiking in Cruz de Tejeda
Below you can watch the video of this circular route with English subtitles. If you have not yet subscribed to our YouTube channel and you don't want to miss the next videos with plans to do on the island of Gran Canaria, subscribe to our channel here.
Restaurants in Cruz de Tejeda
Perhaps the best known place that matches the one that we would recommend is the Yolanda Restaurant. It is a grill for grilled meats, but they also have yummy spoon dishes to fight against cold days. For example, a good stew or a delicious chickpea local dishes. Take in mind that this part of Gran Canaria is one of the coldest and during the winter months the temperatures here are normally under 10 degrees. If you are looking for a cheaper option, you can always buy a good Chorizo de Teror sandwich with cheese at the Canarian product stands next to the parking lot.
Finally, at the Parador they have an à la carte restaurant with views that if you can afford to pay a little more, we also recommend it.
Hotel Cruz de Tejeda
Without a doubt, the best place to stay in this area of Gran Canaria is at the Parador de Cruz de Tejeda. The Paradores of Spain have very good facilities and services. Also, they are usually found in unique places. In this case, the Parador has a hanging pool in the middle of nature with views of the Sacred Mountains of Gran Canaria (World Heritage Site). This includes the Roque Bentayga and the Roque Nublo.
By the way, you can enjoy the Spa facilities that include this pool without having to stay at the hotel. They have a day pass. Do not miss it!