In this section of the website we will share with you all the routes of gravel bike in Gran Canaria so that you can discover the island doing what you like the most. Each Gran Canaria gravel route includes photos, technical characteristics, tips, places of interest and the track. We also share with you one of the best gravel tracks in the Canary Islands if you love bikepacking. Finally, take a look at our special pack at the end of this article if you prefer simpler circular routes. Let's go!
Gravel bike routes in Gran Canaria
Gravel biking in Gran Canaria is not very common yet, so sometimes the routes run on trails frequented by MTB bikes. Therefore, when we indicate that a route is more technically difficult, it means that you will probably have to get off your bike at some point. However, if we have taken you on this route, it has been to link in the best way with a natural monument or landscape. The technical difficulty is marked on the traffic lights of each route, with green being the easiest.
Complete track to go around Gran Canaria on gravel bike
Below, we leave you with the complete track to go around Gran Canaria on gravel bike that we recommend to do in at least four stages, depending on your physical capacity and time available, you have all the details of this epic gravel track in the Canary Islands by clicking on the link above. Below you have all the routes (most of them circular) and a special pack of tracks at the end.
Tracks para rutas gravel bike en Gran Canaria
Below you will find all the routes we have done so that you can choose the one that best suits your physical condition, area, time available, etc. In each one of them you have photos, characteristics, the track and in some of them even a short video. Remember that at the end, we have a special pack of a selection of five tracks for the price of four. Please note that all tracks are in .GPX format. When you make your purchase, you will receive an email with a download link and that's it. If you don't know how to download and follow them, here we explain it.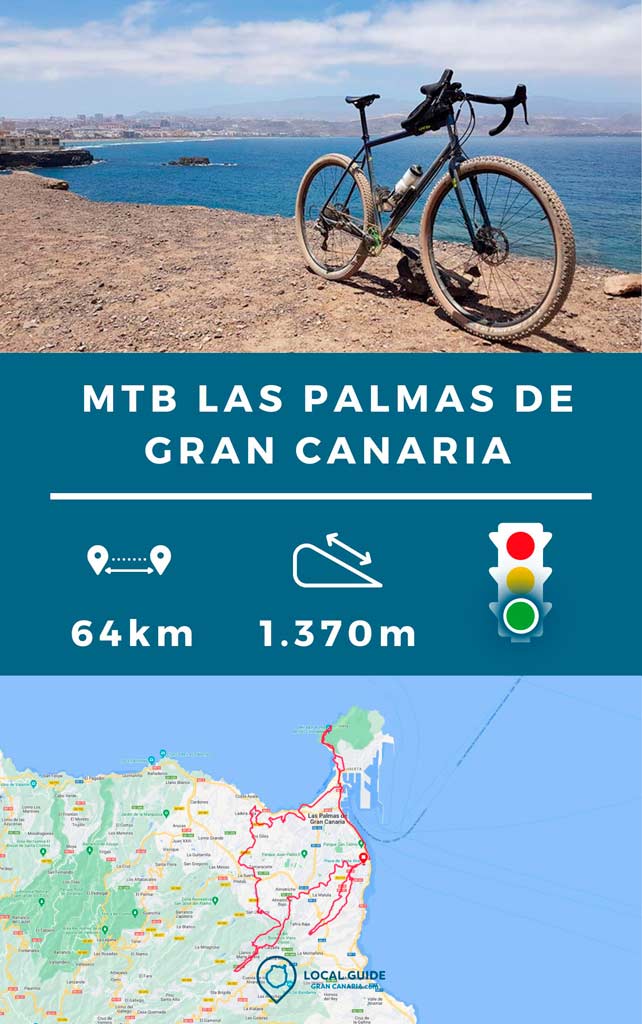 Pack best gravel routes in Gran Canaria
Below, you can get 5 gravel bike tracks for the price of 4. These are the five routes / covers that you can see at the beginning in case you would like more information. Unlike the full gravel bike track, these are simpler and all circular routes, which requires less planning.
MTB around Las Palmas de Gran Canaria
Arco del Coronadero
Gáldar – Agaete
Maspalomas – Ayagaures
Chira – Pilancones Natural Park
Finally, you can see all our articles about cycling routes in Gran Canaria by clicking on the following image. Here you will also find all the enduro tracks, MTB routes (the same as the gravel ones) and a guide with all the places to visit in Las Palmas de Gran Canaria city by bike.
Guides to Gran Canaria
If you also want to know the best places to eat and places to visit in Gran Canaria, we have at your disposal different digital guides of the island: restaurant guide, beach guide, complete guide of Gran Canaria, etc. You can also arrange a customized guides and we will help you organizing your stay, routes, places to eat and things to do around. We show them all below in just one click.
5% discount in your travel insurance
We hope you enjoy these gravel bike routes in Gran Canaria. If you have any questions, don't hesitate to leave us a comment below or contact us at info@localguidegrancanaria.com. And, whether you are going to do adventure sports on the island or not, we have a 5% discount on all IATI travel policies. Their insurance covers luggage damage, flight delays, medical expenses due to illness or accident, among others. You can see the discounted prices by booking through our link.