We have prepared this section with great affection, they are our travel guides of Gran Canaria. As you know, we would like to be your local friend in the island and that after your visit you will be with the feeling of having discovered the most authentic side of Gran Canaria. Therefore, with our digital guides you will get information concerning places to eat, as well as suggested itineraries based on the number of days you come, a complete guide of beaches and natural pools and much more. Below we show you all our local guides and we explain you what is on them. Do not miss the final video so that you can know us better.
All our Gran Canaria guides
1. Restaurant Guide
We present you our restaurant guide with a selection of more than 80 restaurants about places to eat in Gran Canaria from different parts of the island. Especially local food places. However, you will also have a list of Spanish, Mediterranean, Japanese, Korean and international restaurants in general. Finally, there is a section of places to have breakfast on the island. We usually visit all the restaurants that we mention and they are the ones that we would recommend to our friends. We would never talk about a place we did not know or they would have treated us badly.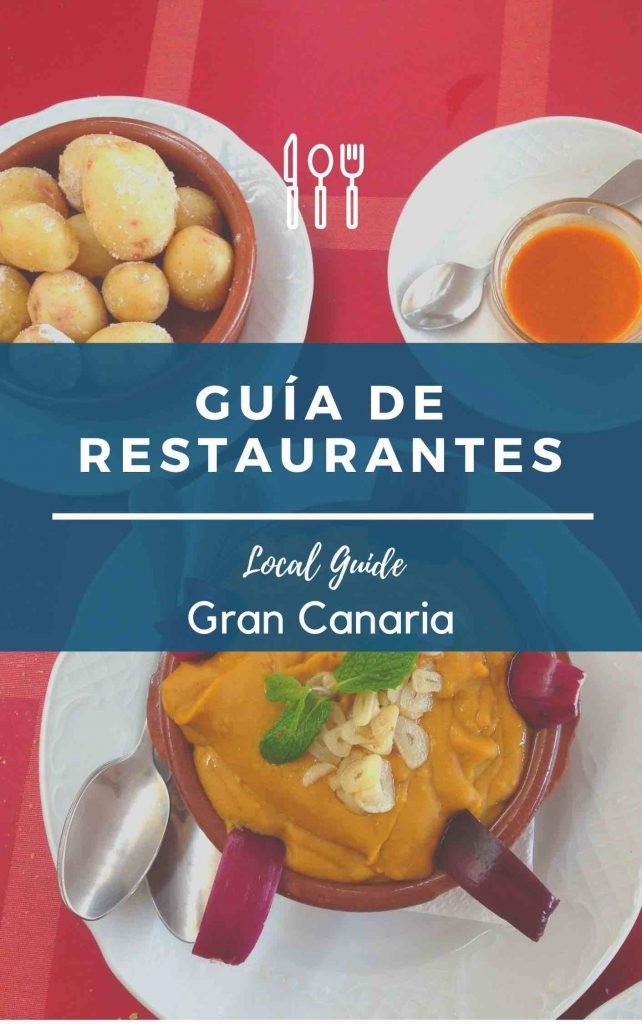 On the other hand, each type of kitchen / restaurant is grouped by area of the island: Las Palmas de Gran Canaria, north, south, east and west. Finally, inside each restaurant, there is a brief description of it, a recommendation on what to order and a photo of one of its dishes or premises. In addition, you can access an indicative range of prices, opening hours (subject to changes by the owners) and address. We have no doubt that it will be really helpful during your visit to Gran Canaria.
2. Beaches and natural pools
In this guide you will find everything you want to know about the coast of Gran Canaria. A total of 80 places to bathe and sunbathe by the Atlantic Ocean. Beaches for surfing, for diving, for nudism, to go with your pet. Do not miss it!
3. Full Travel Guide of Gran Canaria
We have thought that you might like to have information about the most attractive plans to do on the island and, therefore, we have designed a complete travel guide of the island. This includes a total of 35 plans or things to do in Gran Canaria and runs through each of the municipalities of Gran Canaria. In the same way, you will find restaurants that the locals frequent in each plan, so you will not have to think about anything. Just read and choose the plans you like best: beaches, villages, hiking, markets, cultural visits, natural resources, etc. As you can see below, if you purchase the Full travel guide and the Restaurant guide, YOU CAN GET FOR FREE OUR BEACH GUIDE!
4. Customized travel guide
If you wish, we can also prepare customized guides for you. For example, a bachelor party, a biker trip, a hiking trip… Everything you can think of, we can organize and customize it depending on the days you come, your budget and your needs.
5. Gran Canaria guides per day
Below you will have access to itineraries around Gran Canaria depending on the number of days you are going to be. Here, you will find, as we see it, the best plans to take advantage of your vacation. Likewise, if you would like to choose between several options, we recommend our Complete Guide where you can select the routes you like the most from a total of 35 plans around all municipalities. In the following lines you have all the itineraries that we have prepared so you can:
1) Save time planning your holidays
2) Discover the most authentic side of Gran Canaria
✔ 14 days in Gran Canaria
Here is our masterpiece of the island. This guide is already for knowledgeable experts of Gran Canaria. We are sure that many of the residents on the island have not been to any of the sites we recommend. Therefore, you will love it, since many of the places are little known and are not saturated by tourists and residents. Authentic places, hidden restaurants, unique landscapes and a lot of local life. We are your local guide of Gran Canaria 🙂
✔ 10 days in Gran Canaria
If you are reading these lines, you are fortunate to be able to spend 10 days in Gran Canaria. Therefore, you will be able to discover practically all the most outstanding sites to visit on the island. Like the rest of the guides, we suggest several restaurants per day to eat, so you will not have to worry about anything other than looking for your accommodation on the island. We leave you with a link to the best places to stay in Gran Canaria. Even in that we want to help you 🙂 In this case we would recommend you to spend some nights in Las Palmas de Gran Canaria and others in the south, to avoid long journeys and make the most of the time. So that, you enjoy the island very much.
✔ 7 days in Gran Canaria
If you plan to spend a week in Gran Canaria, you can say that you will have time to know the most beautiful of the island. We are sure that with the 7 day guide in Gran Canaria you will not leave the island thinking that Gran Canaria is only sun and beach. You will be an expert of a wonderful place and it will surprise you in every corner. Also, remember that in each guide per day like this we recommend places to eat on the road and what to order. Do not worry about organizing your trip if it has already been done by a resident tourism expert for you 🙂
✔ 5 days in Gran Canaria
It's good that you have 5 days to get to know Gran Canaria. With the purchase of this guide you will have access to a complete itinerary that will allow you to have a good idea of everything that Gran Canaria has to offer: nature, culture, beach and non touristic places in general. Also, as always, we suggest places to eat en route every day.
✔ 4 days in Gran Canaria
With 4 days in Gran Canaria you will discover the island thoroughly if you know how to move around and where to go. Get now our itinerary proposal with places to eat en route, photos and everything you need to know.
✔ 3 days in Gran Canaria
With the purchase of this guide you will have access to our tips on what to visit in Gran Canaria on your own in just three days. It includes ideal itinerary, restaurants in route and typical dishes, photos and data of interest.
✔ 2 days in Gran Canaria
In this guide we tell you what to see in Gran Canaria on your own if you will only be two days. It also includes en route restaurants, tips, photos, facts and other interesting information.
✔ 1 day in Gran Canaria
Visit our post about things to see in Gran Canaria in a day. Remember that you will always be able to access free content on our website. However, with the above shown guides, what we want is that you take advantage of your getaway, since you will only be in Gran Canaria for a short time.
5. Las Palmas by bike
Without a doubt, the best way to get to know Las Palmas de Gran Canaria is by bike. In addition to not contaminating and saving time, you can travel and visit the most characteristic sites without missing any detail. We tell you everything about the route in this video.
6. Track to discover Gran Canaria by gravel bike
We have made for you a full track to discover Gran Canaria on a gravel bike. This track passes by several tourist sites of the island and will make you live an amazing adventure across Gran Canaria.
Leave us your email below and we will send you a FREE guide with the 10 best local food restaurants on the island. Once you subscribe to our newsletter, contact us by email so we can send it to you and that's it!
Join us!
About our Gran Canaria guides
If you still have doubts, in the following video we explain what you will find in our digital guides to get to know Gran Canaria on your own. Don't forget to activate the English subtitles and subscribe to our YouTube channel!