In this post we are going to let you know about a route through Gran Canaria island by trail motorcycle. It is a track of more than 300 kilometers that runs the island through off-road trails. An adventure to discover the heart of the island on your own. Below you have the description of the route, the track so that you can do it on your own and a video of what you are going to find. Let's go!
Discover Gran Canaria by trail motorcycle through off-road tracks
Most of the track (approximately 70% of the total) runs on a dirt track OffRoad of little difficulty. The remaining percentage will be roads, usually secondary, to join these dirt tracks. It also goes through some paths, but they are specific moments. Most of the time it goes through easy dirt tracks, although it is true that in dry or rainy seasons, there may be some areas that are slightly complicated because the roads are broken or muddy.
We always recommend doing this tour with company, with a single passenger per motorcycle and, if possible, without luggage. To travel Gran Canaria on a motorcycle trail in a single day you must be very fit. If not, we recommend that you divide it into two or three motorcycle days to get to know the island in depth.
What kind of motorcycles can do this track?
Any type of motorcycle with certain off-road characteristics can do this route. There are no long journeys without gas stations to worry about fuel if you have a motorcycle with little tank. But it is true that the route is designed to be done comfortably on trail bikes over 600cc.
If you are a newbie, we recommend that you use studded trail tires. If you are an experienced offroad rider, you can do the route with Trail Mixed tires without any problem.
Characteristics of this Gran Canaria route on a trail motorcycle
This route begins in Las Palmas de Gran Canaria, very close to the Triana and Vegueta neighborhoods (Las Brujas roundabout). On the other hand, it ends at the Chira Dam. From here you will come out onto a road that ends in the San Fernando neighborhood (south of Gran Canaria). Right on the GC-1 highway.
| | |
| --- | --- |
| Distance | 211km |
| Duration (aprox) | +11 hours |
| Ascent | 6847m |
| Descent | 5955m |
Download the track
Then we leave you with the track of this route so you can do it on your own. If you have any questions, on this page we explain how to download and follow the map with your smartphone or GPS.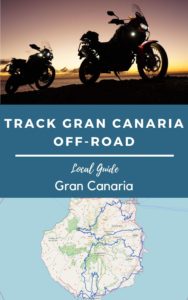 Video of the route through Gran Canaria by trail motorcycle
Here you can see a video of the route below. Sorry, this YouTube channel is only in Spanish! At least you can have a look at all the roads and landscapes.
Discover the Canary Islands by trail motorcycles
If you would like to discover other Canary Islands on a trail motorbike through off-road tracks, take a look at the routes we have on the islands of Tenerife and El Hierro below.