Looking for a gofio recipe? Gofio is a typical Canarian food with the appearance of flour and made from toasted and ground cereals. It can be corn gofio, wheat gofio, mixed or multigrain. There are even gofio with 7 cereals or with legumes such as chickpeas. This can be eaten simply mixed with milk for breakfast, in soups or purees during main meals or in more elaborated dishes such as in the escaldón or mousse. Here we give you more details about this staple in the diet of the Canarians and their ancestors.
What is gofio?
The history of gofio dates back to pre-Hispanic times. It was one of the main foods of the Canarian aborigines made from barley grains and other roasted cereals. Once roasted, they were ground manually in stone mills. They called this flour gofio or ahoren. Since then, both its name and the custom of including it in the daily diet, has remained to this day in the Islands. Over the years, other types of gofio such as wheat and millet or corn have been introduced, being today one of the most common. Likewise, you should know that in times of scarcity, the canaries came to make gofio from the root of the fern (Pteridium aquilinum), a very abundant plant in almost all the Canary Islands.
Today, gofio made from fern and barley is practically forgotten. Some of the phases of the production process of this superfood have also been mechanized. Anyway, always preserving part of the artisan process inherited from the master millers. However, as with almost all processed foods, there will always be some gofios that are more artisan than others. Here we show you an old mill from the 16th century that we can visit in the town of Firgas.
Nutritional properties of gofio
Although it is a slightly processed food, it is really made from 100% natural ingredients without additives, sugars or preservatives. That is, it is usually composed basically of whole grains, seeds and legumes as we show you below. Therefore, we are facing a food of high nutritional value, since it provides a wide variety of essential nutrients. Hence, many Canarian families incorporate gofio into their children's diet from a young age. In the Canary Islands, gofio is a clear substitute for other more processed and commercial flours used to mix with milk in baby bottles.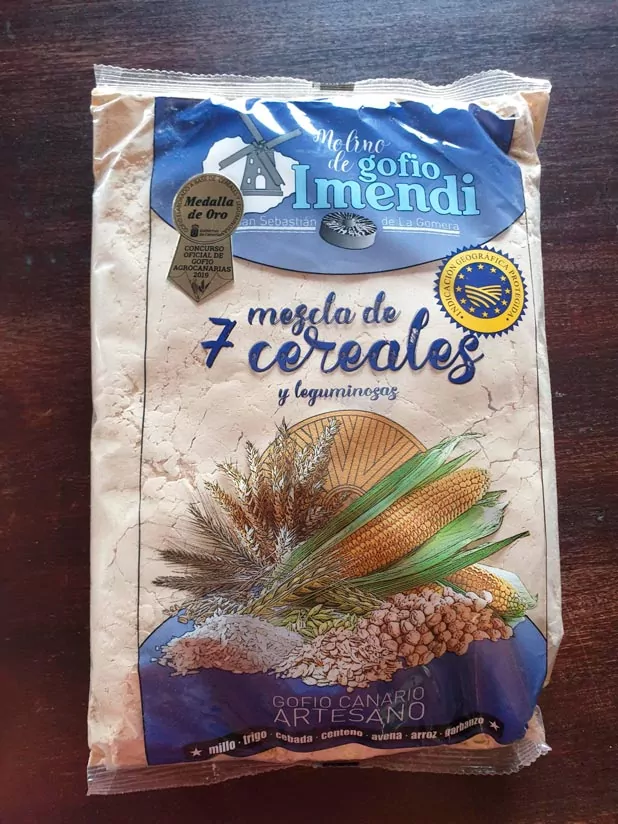 Likewise, Canarian athletes usually consume it given the good amount of carbohydrates and low fat content it provides. It is recommended to consume both before training so that it provides you with enough energy and you can perform, and after exercising so that recovery is faster. On the other hand, there are also the typical gofio energy bars or "gofi bar" on the market, but here we are already facing a more processed food and, therefore, less healthy, because it contains sugars such as glucose syrup and chocolate.
Finally, as it is composed mainly of 100% whole grains, gofio serves as an intestinal regulator due to its high fiber content. That is, it will help you go to the bathroom.
Gofio recipe
In addition to having it for breakfast with milk and mixed in stews such as the one of watercress, there are several typical Canarian dishes made from this Canarian flour. And, as you can read in the following lines, you can take it both in sweet and savory dishes. In the case of sweets, the gofio mousse and the pella stand out.
Although the pella we can say that it can be sweet or salty and even combining sweet and salty flavors. It is the case that we show you below, the pella of gofio recipe has gofio, milk, cheese and honey. In Gran Canaria we also usually add nuts such as almonds.
With regard to salty recipes of gofio, the clear protagonist is the escaldón, which is made mainly by adding fish broth or meat broth to the flour (for example, from the Canarian stew). In Gran Canaria it is usually eaten accompanied by red onion and some fried garlic as we show below. On the other hand, there are islands like La Palma that add pieces of cheese, pepper, meat…
We hope that this little masterclass about what is gofio has been helpful for you. One thing has become clear to us after some friends from abroad have visited us, either you love it or you don't like it at all. Above all, it tends to cost more to those who are not used to eating it from a young age. We encourage you to start trying it in the easiest way, a yummy gofio dessert: the mousse. If you like it, even if it has nothing to do with the flavor, you can also try the escaldón, since in practically all Canarian food restaurants you can order it.
Where to buy gofio abroad?
This product is present in all supermarkets in the Canary Islands, regardless of the chain in question. If you are reading us from abroad, we know that this gofio brand also do international deliveries, have a look here.
Gofio recipe
Below we leave you with a short video from our YouTube channel with the main uses of these toasted and ground cereals.
Gran Canaria guides
If this is the first time you read us, we introduce ourselves, we are a digital guide of Gran Canaria in which you can find infinite information about things to see on the island on your own from the point of view of a local. You have all the details by clicking below.