Faneroque beach is located in the municipality of Agaete, in the west of Gran Canaria. It is a spectacular black sand beach. However, you should know that its access carries certain dangers and you should take into account several aspects before visiting it. We are going to tell you everything below. Don't miss it!
Faneroque beach
This small cove of black sand is also known as the beach of the tractor, since there is an abandoned tractor. It is also known as Faneque beach or Tamadaba beach. We include this beach in the list of the nudist beaches of Gran Canaria. From here you will have beautiful views of the entire coast of Agaete and on clear days you can even see Tenerife. As it is oriented towards the west, from Faneroque you can also see magical sunsets as long as the tide allows it.
And it is VERY IMPORTANT that you know that if you are going to visit this site you must take the tides into account. It can only be accessed on foot and when the tide is low. This means that you cannot stay long enjoying it, since you must leave before the tide rises again. Otherwise, you can get stuck. Therefore, you will not always be able to see the sunset, since it must coincide with low tide.
How to get to Faneroque beach
Faneroque beach is located between El Risco beach and Guayedra beach. It is about 20 minutes by car from Puerto de Las Nieves along a beautiful coast road with many curves. If you come from Maspalomas, we are talking about almost 1 hour and a half driving. It is also very nice to arrive from the south, although you will not get rid of the curves either. If you don't want to get lost, enter "Playa de Faneroque" in your navigator or Google Maps and you will find a small siding to leave your car. Once there, go down a gravel path on the other side of the road and head towards the coast.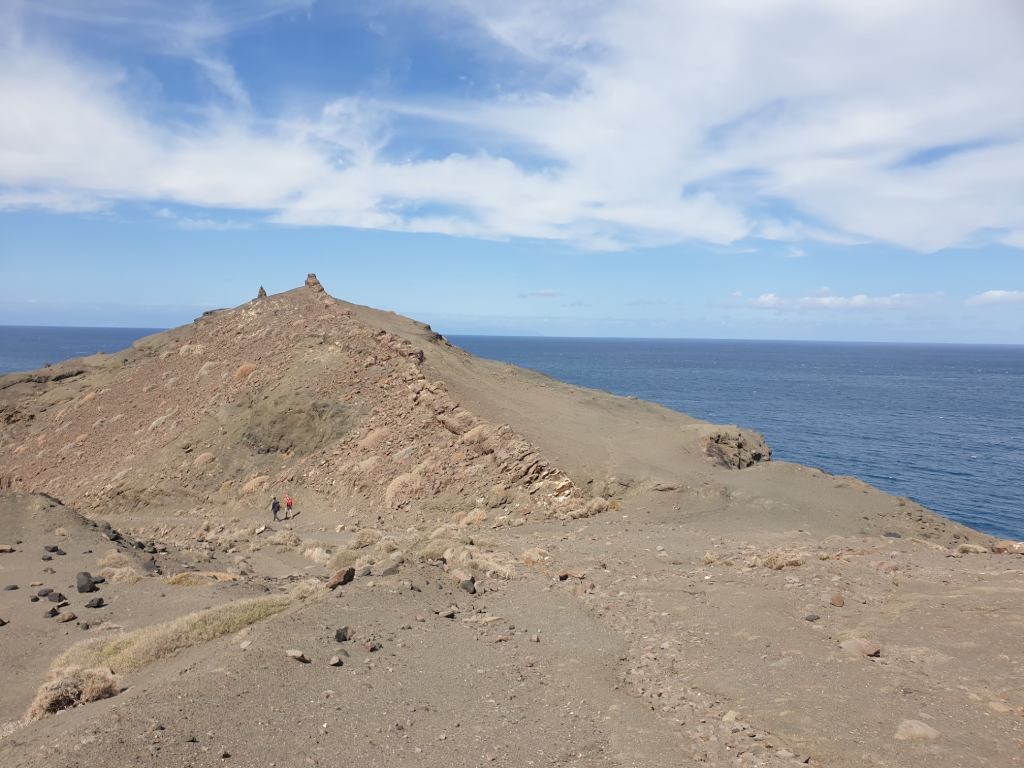 The gravel path is not complicated and it takes about 15-20 minutes to go down and about 30 minutes to go back (since it is all uphill). Please, be very careful once you reach the coast since there is a danger of landslides. Likewise, to pass Faneroque you must be careful not to slip, since the path passes over rocks and slippery stones like the ones we show you below.
Tips for visiting this beach
As you may have read, there are certain aspects to take into account before visiting Faneroque beach since it is a dangerous beach and has no surveillance. We summarize them below:
✔ Visit the beach with low tide. You can check the table of tides per day here.
✔ Wear suitable footwear to go through the gravel path and the slippery stones.
✔ Be very careful that it is not windy and / or it has rained, as there may be landslides. However, there can always be rockfalls and it is so announced once you are there.
✔ The closest town is El Risco, next to Faneroque there is nothing.
✔ If you don't want to take risks and you just want to see the beach, there is a small path overlooking the beach like the one we show you below. Of course, from here you will not be able to see the tractor, much less swim in the sea.
We hope you enjoy your adventure through the west side of the island! Remember that if you decide to visit this place is with your own responsibility. Be careful!
Gran Canaria guides
Finally, we invite you to take a look at our Gran Canaria guides with plans to do to discover the most authentic side of the island on your own. If you are looking for places to eat that locals frequent, you can't miss our restaurants guide!