If you would like to get to know the island the things to do in El Hierro by trail motorcycle, don't miss this post where we will explain everything you need to know.
El Hierro by trail motorcycle
The island of El Hierro has a small area. All the track that you will find at the end of the post, takes place in less than 100km of area. There is a perfect off-road track to go with Trail motorbikes that crosses the island through the center. And that branches out showing us different corners such as the mythical tree twisted by the wind, La Sabina.
There are other dirt tracks that are further away, such as the one that passes through the old zero meridian, only suitable for 4×4 and Trail bikes. We also find some other dirt track to get to a beach, such as El Verodal.
In short, the track is made up of 65% asphalt. The rest are dirt tracks without much difficulty. We are linking them while we visit different charming towns on the island of El Hierro. Also enjoying its winding roads, many times without a shoulder or security fences. Which makes them more beautiful.
How long does this track by trail motorcycle take?
When we did the track we spent the whole day enjoying the island without stopping the navigator. It was about 10 hours, but with many stops to have a coffee or a snack, refuel… If you wanted to do it without stopping, surely you could do it in half the time.
| | |
| --- | --- |
| Kilometers | 174km |
| Duration | 10 Hours |
| Unevenness +/- | 4781m/-4764m |
With what motorcycle can I do this offroad route through El Hierro?
95% of the time we spend off-road we went through tracks without difficulty. That is, any trail bike can pass without any problem. Even any bike that has at least a 19 "front wheel could go down these roads (I recommend 21"). What would be important is that the motorcycle has at least mixed or trail tires, since in some areas we are going to find gravel tracks.
There are only two moments in the whole route that you have to be a little careful, when going down one of the dirt tracks of El Pinar, and when going up to a viewpoint in that same area. Since these tracks are quite steep, and we shouldn't pick up speed if we don't want to get scared. What I do recommend is to ride the motorcycle without a passenger to be able to face the eventual difficulties of these dirt tracks.
Are there places to refuel or buy food during the track?
We will pass through many towns along the way, so you don't have to worry about food, water or gasoline. We will not be more than 20km in a row within a dirt track, so at any moment we could detour to the nearest town to get what we need.
Camping in El Hierro
The only place where camping is allowed on El Hierro is at the Hoya del Morcillo campsite. You must ask for permission on the website of el Cabildo de El Hierro. Although we have read that you can pay in cash the rangers who are usually guarding the area. You can park your trail motorbike next to your hut without problem, and at the campsite you have bathrooms with showers to cool off after a long day of offroad motorcycle riding.
Track El Hierro by trail motorcycle
Below you can download the track of this motorcycle trail route through El Hierro so that you can follow it on your own from your navigator or smartphone. If you have questions about how to do it, here we explain it to you.
Discover the Canary Islands by trail motorcycle
If you would like to know other Canary Islands on a trail motorbike, take a look at the following links. We have the track of a route through Tenerife and another through Gran Canaria along off-road trails.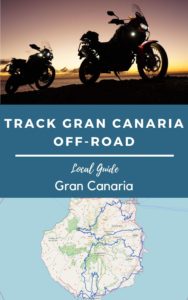 We are Ruth & Jorge, Gran Canarians with a travelling soul. Experts in tourism and digital marketing. We share the most authentic side of Gran Canaria (where we live) and… our adventures around the world!