If you decide to visit La Sorrueda dam and La Fortaleza de Ansite, you can not leave the area without trying the Canarian food at the restaurant El Alpendre. We discovered it by chance and the whole experience from start to finish was awesome. It is located a few steps from the interpretation center of La Fortaleza and a few meters from the viewpoint of La Sorrueda.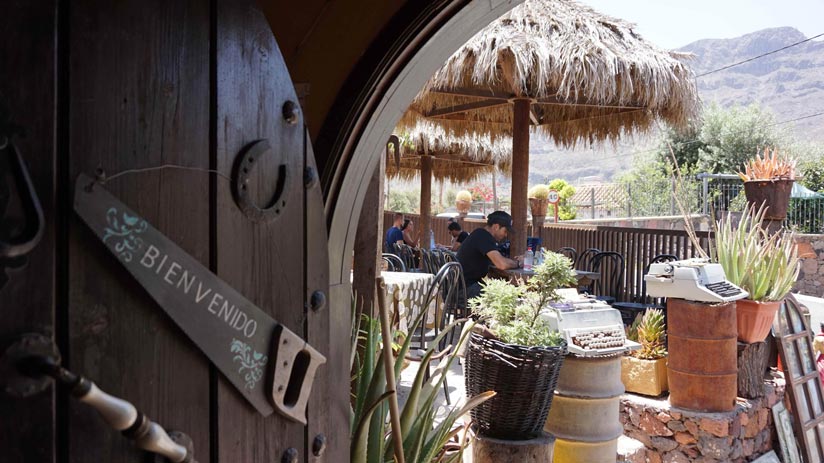 It is a well-kept restaurant run by a local family where, in addition to eating local products, you can buy souvenirs. It has an interior dining room, where there is a little store and also a nice terrace.
El Alpendre restaurant
As an appetizer we ordered the tomato bread that was quite yummy. We also recommend that you try the house salad that brings fruits and vegetables from the area. Specifically, it comes with tuno fruit, fig, papaya, melon, zucchini, carrot, tomato, tuna, onion and lettuce. It is full of fresh flavors and even some of its ingredients are from its own garden.
Next, we also tried the grilled chicken that came with vegetables and potatoes. The chicken was seasoned, which gave it a delicious flavor. The vegetables were also so tasty.
Another of the main courses were the fried calamari which they offered us out of the menu. They did not serve it with any side dish, but it wasn't necessary since the portion was quite strong. The calamari were delicious, if you have a chance, order them.
Finally, as a dessert we wanted to try the cheesecake with pineapple and papaya that they make themselves. It was super juicy. Mmmm, how delicious!
Finally, we also wanted to show you the nice presentation of the coffee with milk.
Concerning the price, we were two diners and we paid € 44 in total, having requested everything shown above. Therefore, it is great considering the quality of the raw material and amount of food. We hope you to love it as much as we do! If you go, we would like you to tell us how was your experience 🙂
Video of our visit to La Sorrueda, La Fortaleza and El Alpendre restaurant
Then we leave you with a video we made the day we visited this restaurant. We invite you to subscribe to our YouTube channel so as not to miss more plans like this!
If you want to forget about finding local food restaurants, have a look at our guides section with our recommendations. We also recommend you some itineraries per day! Do not miss them!
We are Ruth & Jorge, Gran Canarians with a travelling soul. Experts in tourism and digital marketing. We share the most authentic side of Gran Canaria (where we live) and… our adventures around the world!