Are you looking for dog friendly beaches in Gran Canaria? There are some. However, as we see it, the island still has a lot of room for improvement to become a pet friendly destination. Our four-legged friends also need a wider range of pet-friendly hotels in Gran Canaria, as well as restaurants, leisure areas and bathing areas. In any case, below you will find the beaches where dogs are allowed in Gran Canaria, the only legal ones. At the end, we will also give you a list of areas where there is usually no problem, but you could still be fined.
Dog friendly beaches in Gran Canaria
Officially, there are only four beaches where dogs are allowed in Gran Canaria: Los Cuervitos and Tres Peos in Agüimes, Bocabarranco/Jinámar in Las Palmas de Gran Canaria and the cove of Las Salinas in Arucas. We'll tell you a bit more about each of them below!
1) Los Cuervitos, Agüimes
This is one of the best known dog beaches in the south of Gran Canaria. It is in the municipality of Agüimes, so it is actually in the southeast. We recommend that you visit it at low tide so that your furry friend can run around at ease, as it is not a very big beach. Below you can see Napo (Napoleón), one of the doggies from the Instagram community @welovegrancanaria, at one of the few pet-friendly beaches in Gran Canaria.
2) Tres Peos beach, Agüimes
A few steps away from Los Cuervitos beach we have another of the best dog beaches in Gran Canaria. It is essential to come at low tide so that there is some sand left and your pet can enjoy it. Bear in mind that this is a windy area and that you have to be careful with the currents (also in the previous one). Below, you can see how the most famous Chihuahuas in Gran Canaria enjoy themselves with another friend on Tres Peos beach.
3) Bocabarranco or Jinámar beach, Las Palmas de Gran Canaria – Telde
Bocabarranco beach was the first dog-friendly beach in the Canary Islands. So if you have a pet, here is another option for them to enjoy. It is in the south of the municipality of Las Palmas de Gran Canaria (shared with the city of Telde). At high tide there is only a pebble beach, so it is best to visit at low tide. We must also be careful with the currents.
This dog-friendly beach in Gran Canaria allows pets all year round, except on weekends and public holidays from 1 July to 30 September between 1.00 pm and 5.00 pm.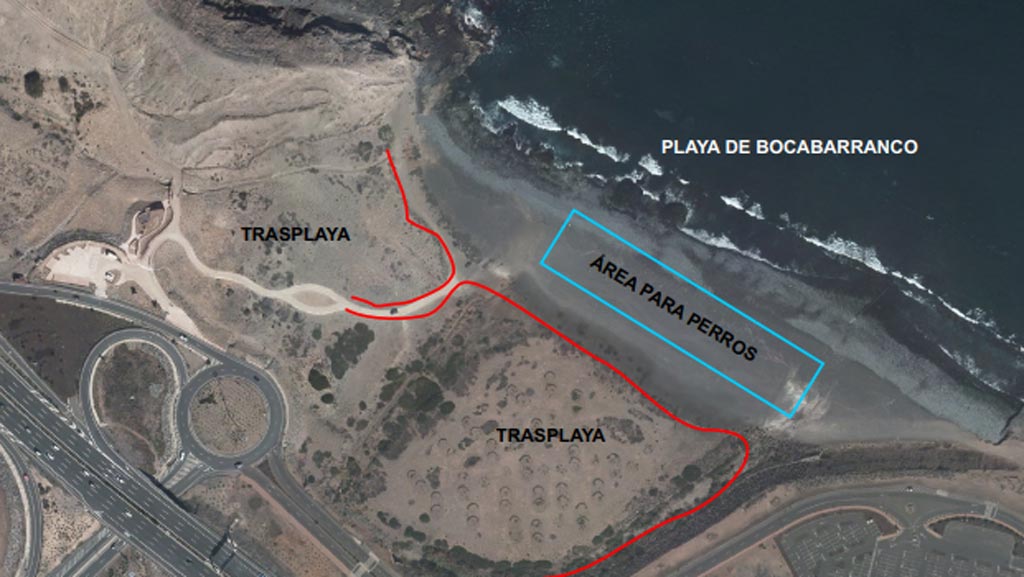 4) Las Salinas cove, Arucas
Located in Arucas, Las Salinas cove is another of the dog-friendly beaches in Gran Canaria. It's a wonderful place to spend the day with your best friend, with plenty of space to play and cool off. However, bear in mind that there is no sand here, something that we know our furry friends love. If it's for swimming, which is recommended for the rehabilitation of many dogs with dysplasia, there are puddles and areas where you can swim.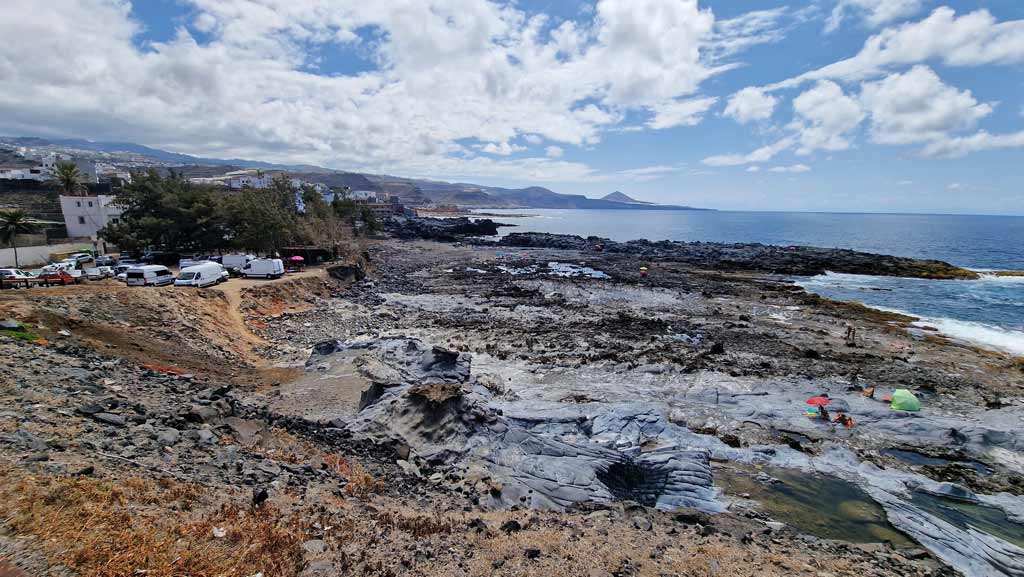 Below you can read the general rules for the use of this dog beach in Gran Canaria.
And, as far as we know, these are the only legal beaches for dogs in Gran Canaria. However, there are other beaches where there are usually no problems of coexistence if you go with your pet, but you can still be fined by the police:
Montaña arena and playa del Pirata in San Bartolomé de Tirajana
San Borondón and La Restinga in Telde
Bahía de Formas, Santa Lucía de Tirajana
Tiritaña in Mogán
El Risco beach and Guayedra in Agaete
Bocabarranco in Gáldar
Finally, we know that there are councils, such as Telde, that are working on the new beach ordinance with which they plan to incorporate more beaches for dogs in Gran Canaria (San Borondón and La Restinga). As we see it, there should be at least one per coastal municipality, what better therapy for our furry friend than a run on the sand and a dip in the sea?
Similarly, it is important to remember that, although these beaches allow dogs, we must respect certain rules to ensure everyone's comfort and safety. Pick up your dog's droppings, keep it under control and make sure it doesn't bother other visitors. We remind you of the most common rules below.
Respecting the rules on dog beaches
Remember that your dog must be registered (microchipped), correctly vaccinated and dewormed, and accompanied by a person of legal age to control it at all times.
If your dog is classified as a potentially dangerous animal (Law 50/1999 and RD 287/2002) it must be muzzled and kept on a leash.
The responsible person accompanying the animal must clean and pick up its droppings.
Organic waste must be deposited in hermetically wrapped bins.
The person guiding the animal, without prejudice to the subsidiary responsibility of the owner, will be responsible for the damages caused by the animal.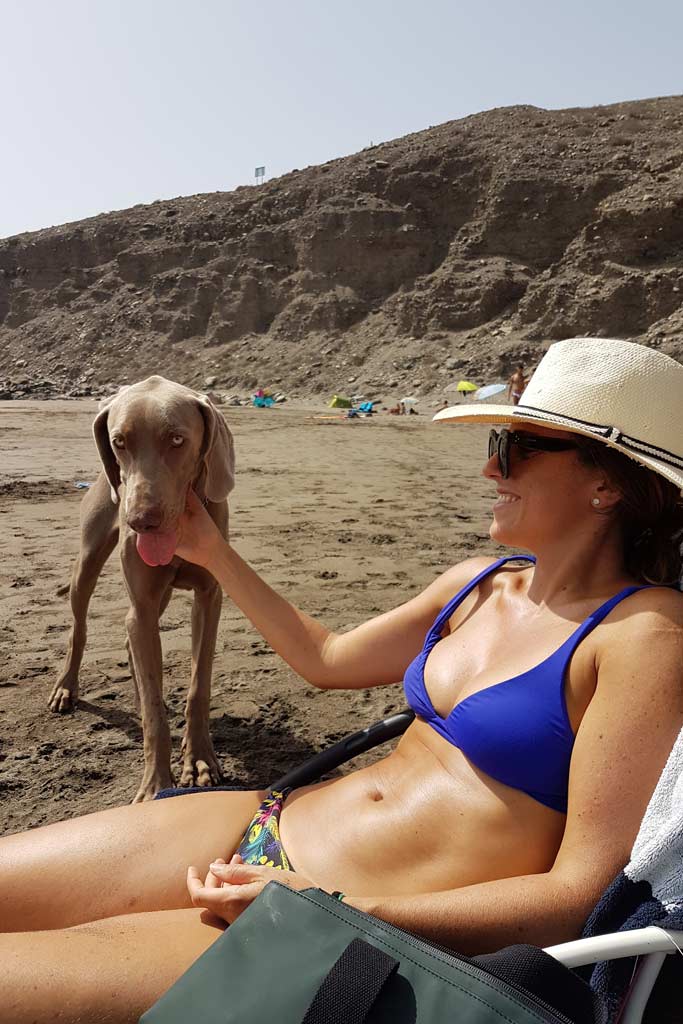 In short, if you are looking for a place to enjoy a holiday by the sea with your pet, take note of all the pet friendly beaches in Gran Canaria that we have mentioned. Don't wait any longer, grab the leash and the ball, and take your pet to enjoy! Finally, we invite you to read our article about pet friendly places in Gran Canaria, i.e. restaurants, cafés, shopping centres, shops, etc.
Video of dog friendly beaches in Gran Canaria
Below, you can see a video of the four canine beaches of Gran Canaria that we mentioned before. If you don't want to miss out on more content about the island, sign up now here!
Guides to Gran Canaria
Finally, if it's your first time in Gran Canaria and you don't know what places to visit or where to eat, in our travel guides we have it all organised for you. This way, you won't have to waste your time looking for information in different blogs. You can see them all below.