Along the north coast of Gran Canaria there are many natural pools to enjoy the sea, one of them is El Charco de San Lorenzo. Here we have a large natural pool with sea water in which we can take a dip. In El Charco de San Lorenzo you can enjoy the Atlantic Ocean in a very local environment. Surrounded by boulder beaches and a camping site for caravans. We'll tell you all the details below, so read on!
Charco de San Lorenzo natural pool, Moya
This natural pool is located in the municipality of Moya, in the Pagador area. It is one of the few bathing areas in Moya, as the municipality has only a few kilometres of coastline. The truth is that it's great: it has showers, public toilets, handrails and stairs to access the water, as well as an esplanade where you can lie down and soak up the sun.
You should be aware that in the north of the island it is sometimes cloudy and the sea can be rougher. You can take a look at our post about the weather in Gran Canaria to understand why. Just a few metres away is the seaside neighbourhood of El Roque, a beautiful postcard of the north of Gran Canaria.
If you want to investigate the area further, the same road that took you to El Charco goes all the way along the coast until you reach the village of San Felipe. There is a small avenue with a bar where you can have a coffee and there is also the beach of Vagabundo. BEWARE, the beaches around here are quite dangerous because of the waves and currents. In El Charco there is usually no problem, as it has a breakwater.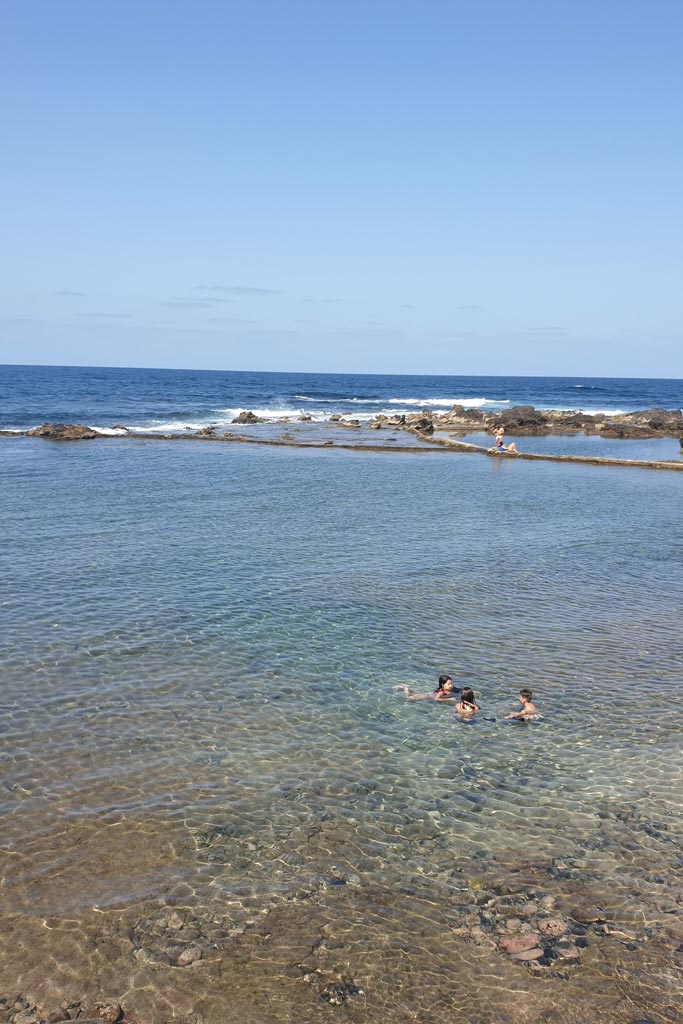 If you want to know more bathing areas similar to this pool, take a look at our article about natural pools in Gran Canaria. We also have a complete guide to beaches and pools which you can see below.
Places to eat in the coast of Moya
To eat nearby you have the restaurant La Marisma or the Locanda El Roque. The latter is much closer, but let's just say that its owner is a bit special (depending on the day, you will get good or bad service). In any case, if you've never been, we think it's one of those places you have to go once in your life just for its location overlooking the sea.
In the following YouTube short you can enjoy a video about this natural pool of Gran Canaria. Don't forget to suscribe to our YouTube channel if you want to discover the best things to do in Gran Canaria in video. You can activate the English subtitles in most of our videos.
Gran Canaria digital guides
Finally, if you are organizing your next vacation on the island, we are sure that our guides to Gran Canaria will save you a lot of time in planning. In addition to being able to discover places, beaches and restaurants that do not appear in the most typical guides and websites. They are the places that we, the residents, frequent. Click on the following photo to discover the guides that we have prepared with love for you.