The Charco de La Paloma hike or Charco de Las Palomas is a trendy trail in the municipality of Tejeda, in the interior of Gran Canaria. Specifically, it is about 15 minutes walk from the giant basket that we find on the road from Tejeda village to Roque Bentayga. In the following lines we are going to talk to you about the Charco de La Paloma hike, as well as we are going to propose a longer route to get to know this area of Tejeda hiking. Don't miss the video at the end!
Charco de La Paloma
This natural resource is characterized by its large waterfall and pond. Also, as its name suggests, you can see some palomas (pigeons) swarming at the top of this waterfall. When it has rained a lot, you can see how this waterfall has a great flow that in turn runs through the Tejeda ravine. Without a doubt, it is a good plan to combine with a visit to the town of Tejeda, Roque Bentayga or with a hiking route like we did.
Keep in mind that the photos and video that we show you are from February 2021. So keep in mind that the landscape can vary in the drier months.
How to get to Charco de La Paloma
To get to Charco de La Paloma you have to park next to the basket of Tejeda or even in the town of Tejeda and walk VERY carefully on the road. Then you must descend the ravine towards the interior of the mountain. You only have to walk about 10 minutes and cross the stream flow and you will see it. If you can follow a wikiloc track or Google map better, since it is not signposted and it is easy to get lost. Anyway, we are going to share the complete track that passes through the Charco de La Paloma and other places of interest below.
Charco de La Paloma – Cruz de Timagada hike
As we mentioned, we did a longer Charco de La Paloma hike that passed through more places of interest. In this way, we took the opportunity to get to know this part of Tejeda. As we see it, is a fairly easy route without great dangers of slipping or falling.
The accumulated unevenness is about 480 meters, so we could say that it is suitable for anyone who can be 3 hours walking. Even so, we always recommend that you go well prepared with suitable footwear, food and water. To this add a good coat if they are cool months. Likewise, we recommend that before going you check the weather forecast in Tejeda and prepare your basic hiking kit.
| | |
| --- | --- |
| Estimated distance | 7,7 km |
| Estimated duration | 3 hours |
| Level | Starter-Intermediate |
| Total ascent | 480 m |
| Circular | Yes |
| Picnic area | No |
✔ La Culata de Tejeda
This circular route passes through the town of La Culata. Here you can stop for a drink or even have lunch. In this way, you can divide the hike in two, either in case you go with children or with people who have to take more breaks due to their physical condition.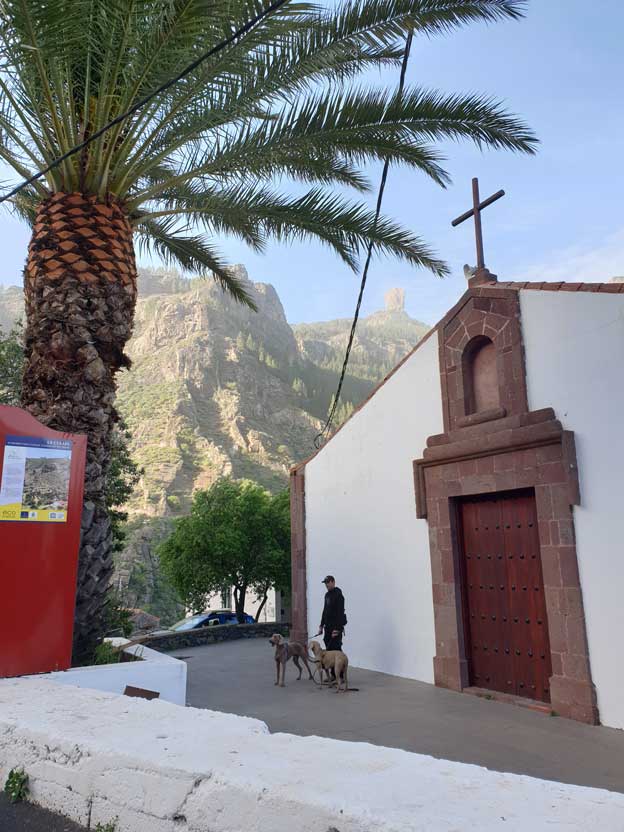 ✔ Cruz de Timagada viewpoint
This Charco de La Paloma hike also passes through a very special and little-known place. It is the viewpoint of La Cruz de Timagada, within the Roque Nublo Rural Park. It is located at 1,285 m of altitude, with which you can imagine the views from here to Tejeda and the Roque Nublo.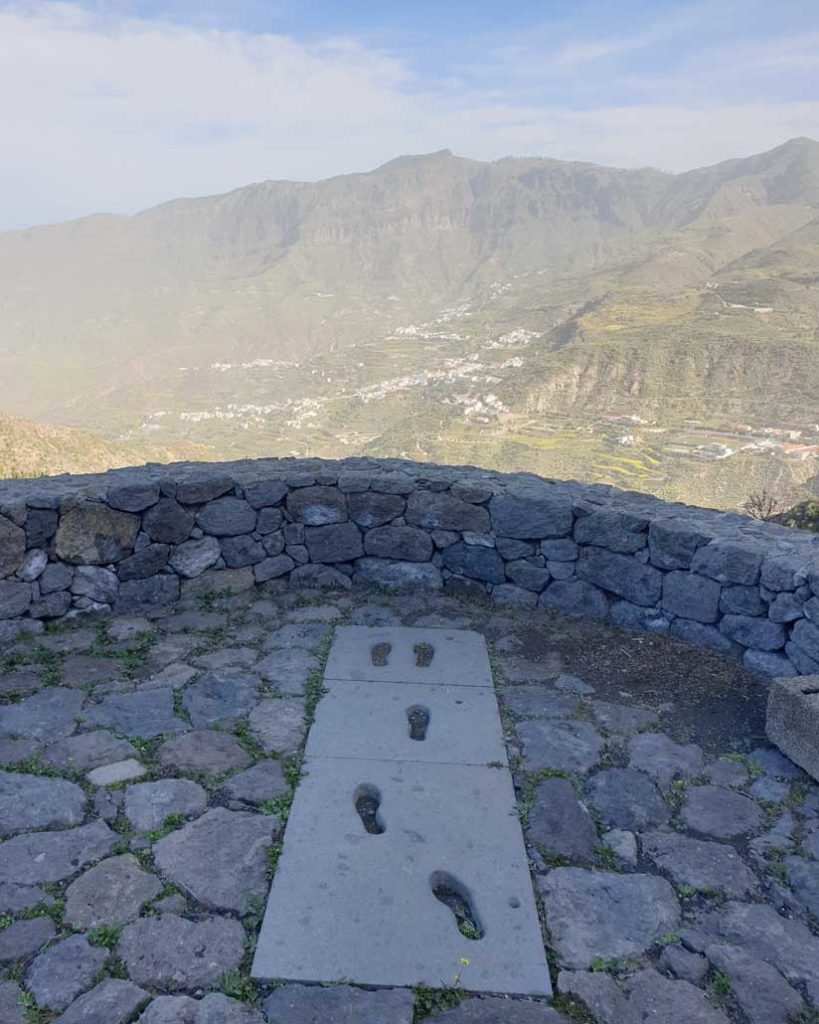 ✔ Roque Nublo and Bentayga
We also leave you with a photo taken from the trail to the Roque Nublo Natural Monument. As you can see in the video at the end, if you decide to do this route, you will also come across Roque Bentayga.
At the same time, if you go in the months of January, February and / or March, you are likely to be lucky enough to see numerous almond trees in bloom and streams or small waterfalls as we did. In any case, the route is beautiful and worth doing.
Of course, as we said, if you want to see the almond tree in bloom, try to go in the months of January, February and March.
✔ Track of the route
Here you will be able to download the track of this hiking trail of Gran Canaria that we show you in the following video. If you want to know how to download the map in .gpx format to follow it on your own from your navigator or smartphone, we will explain it here. If you want to support us so that we continue to create content for you about Gran Canaria, we will appreciate if you purchase one of our tracks, either to enjoy incredible routes or as a donation. And don't miss the video we have prepared for you below!
Video of Charco de La Paloma hike
Finally, we have also prepared a short video of this hiking route to encourage you to discover the most authentic side of Gran Canaria on your own. If you want to see more videos of plans to do on the island like this one, you can subscribe to our YouTube channel here. We have English subtitles in all of them!
Do you want to know more plans like this? Take a look at our Gran Canaria guides to become an expert on the island traveling on your own.