Castillo del Romeral village is a coastal place located southeast of Gran Canaria, within the municipality of San Bartolomé de Tirajana. Given its location, it is usually a windy area. In fact, in its surroundings there are several wind energy mills. However, the days that the wind respects it is undoubtedly a stop that we recommend you to make to eat fresh fish and swim in the Atlantic Ocean.
Castillo del Romeral village, Gran Canaria
Castillo del Romeral is one of the few 100% authentic sites in the municipality of San Bartolomé de Tirajana, the most touristic in Gran Canaria. It has several pebble beaches and artificial pools with sea water to take a dip. If you like to discover little touristy places on the island, Castillo del Romeral and its Canarian gastronomy will surprise you.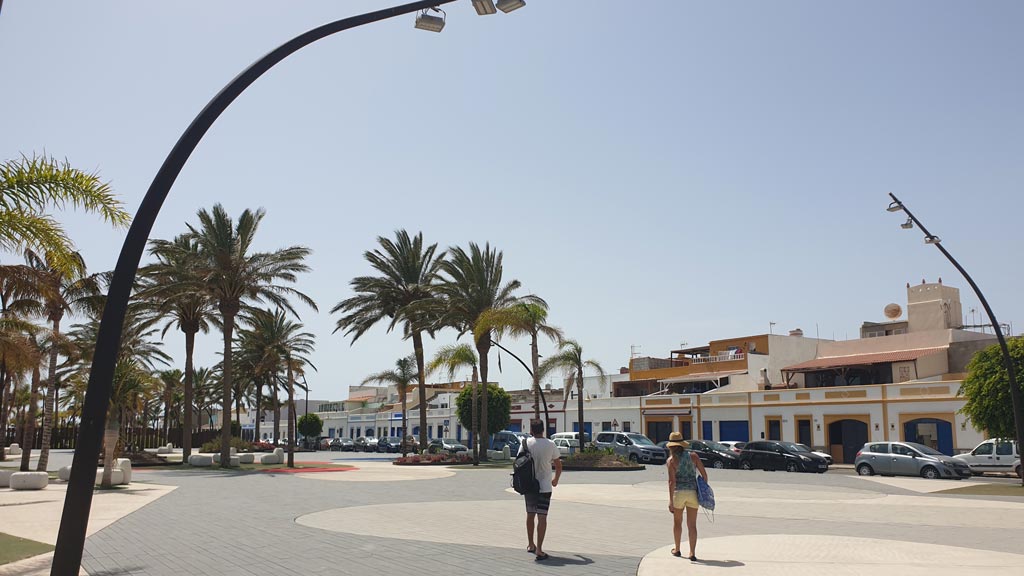 They have recently renovated the entire promenade with gardens and playgrounds. We like how they have managed to preserve the same marine style of the houses that are on the first line: white with blue and colored touches. But the best, its salt water pools!
Natural pools Castillo del Romeral
Along the promenade of the village you can enjoy its different natural pools. We call them natural pools because they carry water from the sea, but they have really been adapted for swimming and easy access. For example, there is a small artificial barrier that joins the pool with the ocean where many locals sit and feel the waves.
Likewise, they have different stairs to comfortably access to take a dip. Since there is a breakwater, we can say that it is an ideal place to enjoy with children who already know how to swim. On the other hand, to sunbathe you will have to do it on the concrete floor or take your own chair, since it does not have sand, rocks or sunbeds. Regarding the services, there are only footbaths.
Restaurants in Castillo del Romeral village
If you are looking for restaurants in Castillo del Romeral, you should know that despite being a small town, there is a very good and wide gastronomic offer. Here our favorite is Liágora Canaria. They are specialized in rice and seafood.
Here we have eaten the best gofio in Gran Canaria. They put it as a garnish when you order fried fish along with some good potatoes with mojo. By the way, the fried vieja is a must (local fish). As for the starters, the house always invites you to a salad tapa. They also tend to have one of the best bluefin tuna carpaccios that we have tasted off the menu.
We have also heard good about Las Salinas restaurant and the Fishermen's Guild, but we have not been there yet.
Apartment and houses in Castillo del Romeral
If you want to look for house options to spend a few days in this area of southern Gran Canaria, then you can do so by clicking on the following button.
Video
Below you can have a look to our visit to Castillo del Romeral on a non-windy day. Subscribe now our YouTube channel with more videos about things to do in Gran Canaria.
Do you know that we can organize your days in Gran Canaria? Yes! We have already done it in our digital guides, have a look at all of them below!