In the Canary Islands there is no official language, we speak Spanish. However, we do have Canarian words of daily use. It is probable that you have already heard some of them, others we are sure that if you are not from the Islands it will be the first time that you read them. As in each region, in the Canary Islands we also have Canarian expressions. But in this post we are going to focus only on words. What do you think about learning some words before your trip?
Canarian words, the most used ones
Next, we are going to review a selection of 21 Canarian words, explaining their meaning. We have chosen the most everyday ones, although you will see that we also include some rarer ones. Keep in mind that in the Canary Islands we also have different words to refer to the same thing between islands. We will tell you about it in the next few lines.
1. Guagua
A guagua is a bus in the Canary Islands. Perhaps it is one of the best known words in the Canary Islands. Here we say "I'm going to take the guagua".
2. Cholas
The cholas are flip flops. This Canary word is used in all the Canary Islands. There is no other term in our vocabulary to refer to this article. Put on the cholas we are going to the beach!
3. Buche
A buche is a shot or sip in Spanish. Can you give me a sip of water? I am very thirsty!
4. Roscas or cotufas
The roscas in Gran Canaria are popcorn. Here if distinction is made between islands or provinces, since in the province of Santa Cruz de Tenerife, they are cotufas.
5. Playeras or tenis, different Canarian word between islands
In this Canarian word we also make a distinction by island. These are sports shoes, which in Gran Canaria we call playeras and in Tenerife tenis.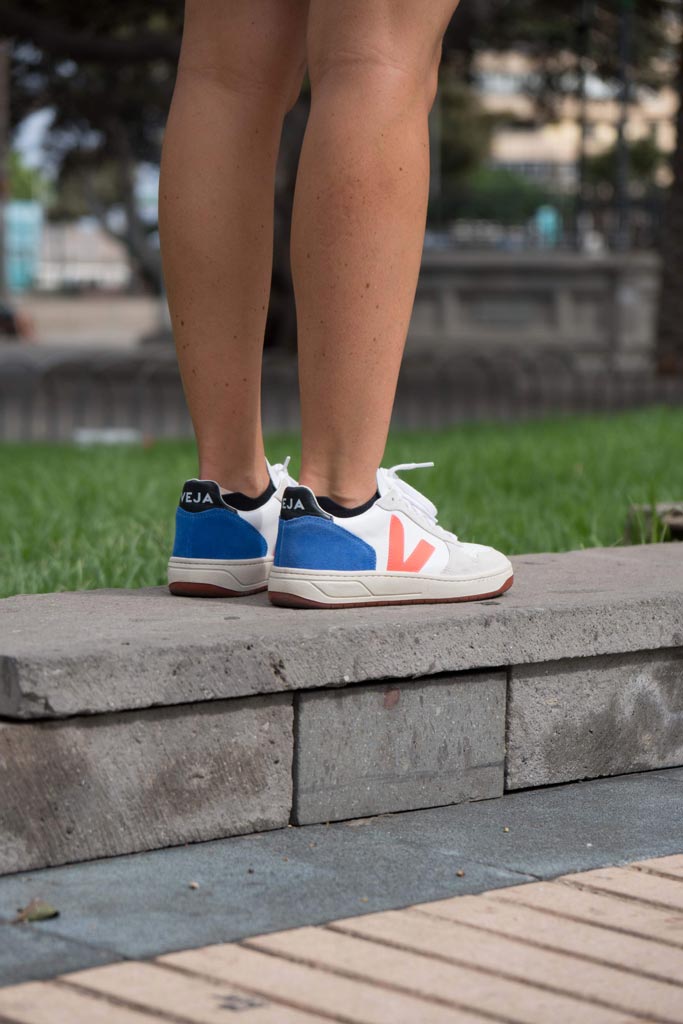 6. Cambado
When something is cambado it means it is crooked. That palm is a little crooked!
7. Enralarse
This Canarian word is also very common. Being enralado means something like being euphoric, highly motivated and fun. Actually there is no equivalent word in Spanish.
8. Embostarse and jartarse
Embostarse and jartarse mean the same thing. It means eating until you can no longer, until you are full and fed up.
9. Calufa
Calufa means hot. For example in Canarian "¡Qué calufa!" mean "How hot!"
10. Jaya or jilorio
I have jaya or what a jilorio means among the canaries, I am hungry! and how hungry!
11. Millo
In the Canary Islands we say millo to the corn, instead of maíz.
12. Bosta
Bosta is someone who is very fat. For example, what a bosta guy! We also refer to a very large poop with the word bosta.
13. Ñoños
The ñoños are the toes in the Canary Islands. The pain in my ñoños is because of my new shoes.
14. Fos
If you hear someone saying fos, he is very Canarian. This word is used by canaries when something smells bad. We say "fos, how bad it smells". Or just fos means stinks.
15. Ños or chos
Ños or chos, is a Canarian expression used for many uses, it can be a synonym for Phew! or even Wow! For example, "Ños! How hot it is!" or "Ños, what a car! And the same with chos, "chos, how fast you came! "
16. Machango
The word machango is often used to derogatory call a person who does or says nonsense. It can also be a doll.
17. Maúro or mago, different word between islands
A maga (Tenerife) or maúra (Gran Canaria) person is a countryside person. Do not be mago and speak well!
18. Arretranco
An arretranco is a junk, usually old. You have the house full of arretrancos!
19. Zarcillos
The zarcillos are the earrings. Yes, that jewel that we put on our ears are zarcillos, pendientes in Spanish.
20. Guachinche or bochinche
A guachinche or bochinche (more common in Gran Canaria) it is an establishment where you will be able to eat homemade Canarian food. It is usually a family business in garages or very large places where the food is homemade, the wine is self-produced, the tablecloths are made of paper, the price is cheap and the bustle is very common. We invite you to discover the places that are most similar to bochinches or guachinches in Gran Canaria.
21. Chacho or chacha, the best Canarian word
We can say this word 10 times a day easily. It is the equivalent of "dude" or even the word "damm" in very informal language and to demand attention. For example, "chacho, send me the photo now." Or, for example, "chacha, I'm waiting for you, where are you?".
Podcast about Canarian words in Spanish
If you are learning Spanish in the Canary Islands below you can hear us explaining this Canarian words in our Podcast about Gran Canaria. It is everything in Spanish, we hope you understand our explanations! Enjoy!
Learn more Canarian words in Gran Canaria
What about discovering any Canary Island? In our local guides of Gran Canaria you have everything you need to get to know this island on your own.
We are Ruth & Jorge, Gran Canarians with a travelling soul. Experts in tourism and digital marketing. We share the most authentic side of Gran Canaria (where we live) and… our adventures around the world!