Dive headfirst into the best things to do in Jeju Island, South Korea's largest island and one of the seven natural wonders of the world. Jeju Island isn't just teeming with beauty; it's a fascinating testament to the geological forces that shape our world. Apart from its 2011 recognition as a natural wonder, it also hosts several UNESCO World Heritage Sites. From its pristine white-sand beaches, unique geological resources, and vibrant green tea fields, to cascading waterfalls, delectable cuisine, and unique traditions, Jeju has it all. Standing majestically is Mount Halla, South Korea's highest peak at 1,950 meters, and the famed sea women or Haenyeo further enhance the island's appeal.
With all this and more, we firmly believe that Jeju attractions deserves a spot on your South Korean itinerary, and in the following paragraphs, you'll discover precisely why. Below is a small index of what you'll find in this article about Jeju Island, what to do and more tips.
What is Jeju island famous for?
As we've hinted, the array of Jeju Island attractions truly makes it an unmissable sight in your list of places to visit to South Korea. Perched at the southern end of the Korean Peninsula, Jeju is merely an hour's flight away from Busan or just under two hours from Seoul (typically costing less than 100€). What is Jeju Island best known for? The island's subtropical climate, warmer than the rest of the country, makes it a preferred holiday spot for Koreans. Jeju's geographical isolation has nurtured unique cultural facets that distinguish it from the country's other regions. For instance, the 'harubang', or stone grandfathers carved from lava blocks, are the island's most recognizable symbol. They are believed to ward off demons, and you will notice them at the entrances of villages and homes.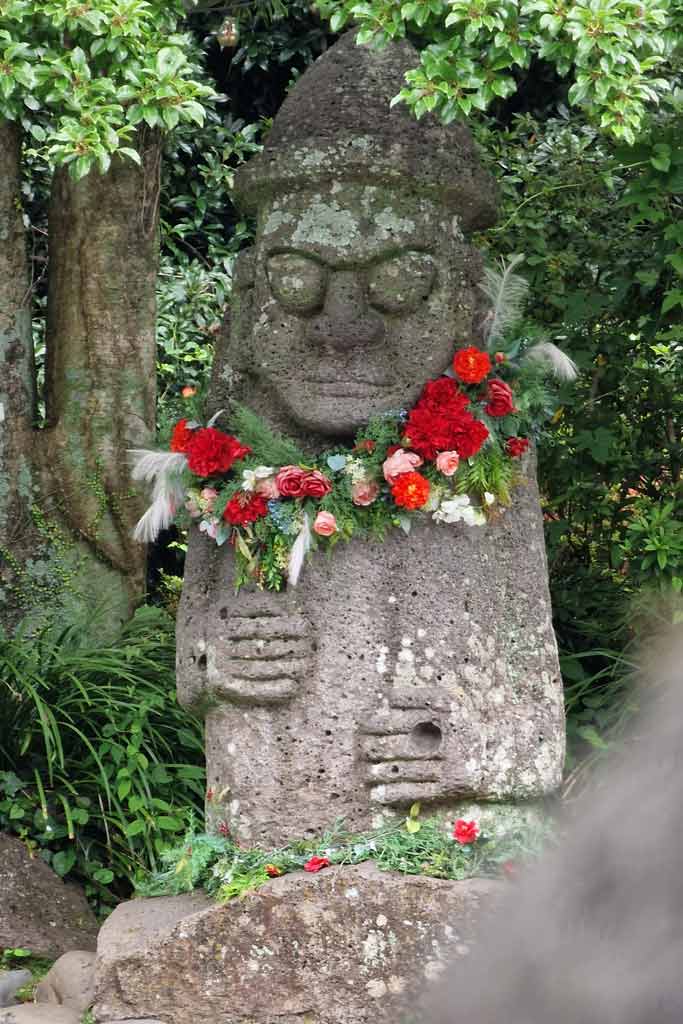 Jeju Island's distinct matriarchal families, especially prevalent on Udo island. The haenyo, or sea women, provide a captivating case in point. These women divers earn their living by free-diving for shellfish such as abalones or sea ears. And if that wasn't enough, UNESCO has recognized Jeju Island as a Biosphere Reserve and Global Geopark, owing to its immense geological value. Many have taken to calling Jeju the "Hawaii of South Korea" or the "Island of Love", with numerous Koreans selecting it as their honeymoon destination. As we delve deeper into Jeju island tourist attractions, you'll comprehend why it's counted among the seven natural wonders of the world.
Best things to do in Jeju island, South Korea
Is it worth to visit Jeju Island? Definitely! How many days in Jeju? We spent 3 nights, although we believe that an extra day would have been a good idea to relax and even spend the night in Udo. In any case, we think 3 days is the minimum. We have grouped the best places to visit in Jeju island by north/east and south/west zones with restaurants (including Naver's location). Therefore, we recommend you to divide your stay as follows:
Jeju attractions map
You should know that it is advisable to rent a car in Jeju to get around the island, at the end of this article we will tell you how we did it. We leave you with the things to do in Jeju map. We know first-hand that it will be of great help to you in planning your visit to the island. Now let's get to the must-do's of Jeju!
1. Jeju island beach: Hamdeok
As soon as we arrived at Jeju International Airport, we picked up the car and headed for Seongsan along the coast. We made our first stop at one of the best beaches in Jeju island. This is Hamdeok beach (Jeju north) with white sand, crystal clear water and black volcanic rock. This area is somewhat touristy and has a good range of accommodation and restaurants. So that, if you are looking for places to visit near Jeju airport this is one of them!
2. Seongsan Ilchulbong, Jeju things to do for nature lovers
Seongsan Ilchubung is one of the tourist attractions of Jeju Island and South Korea that most captivated us. It is an extinct volcano, a World Heritage Site, and you can get to the top for just under €4 per person. The ideal would be to have a bird's eye view of the crater, but drone filming is not allowed. We leave you with a photo of the activity ticket to give you an idea of what this place looks like, as the view from above does not allow you to appreciate its magnitude.
The hike takes about 30 minutes and from the top you can see the crater itself, as well as have the best views of the Seongsan Peninsula. Many travellers choose to visit to see the sunrise, which we think is a good idea if you want to avoid the heat, as the hike is a bit tough if you visit in summer. While you're in the area, take the opportunity to visit Cape Seopjikoji as well, we didn't have time.
Restaurants in Seongsan
☕ Café The Light, with sea views and Seongsan lchulbong
🍽️ Seongsan Fisheries restaurant. We recommend ordering one of their mackerel tasting menus which includes mackerel sashimi, grilled mackerel and mackerel soup. This was our best restaurant in Jeju, although it's not cheap. Here they have Jeju beer, which is very good. Address Naver map.
🍽️ Restaurant 바다풍경: This traditional restaurant specialises in grilled fish and Jeju black pork. You can also try live abalone (if you dare). Very authentic. We haven't found its name in English, but don't worry, we'll leave you its address on Naver Map. It is right in front of the woman diver rest area, a few steps from where the Haenyeo do their exhibition.
3. Udo island and the Haenyeo divers, Jeju island day trip
If you want to get a real taste of the Haenyeo diving tradition, you have to go to Udo Island. The Jeju boat tour departs from Seonsang harbour. The journey takes only 20 minutes and cost us €7 per person (return trip). To get around Udo you can do it either by renting a bike, motorbike or mini car (all electric). The island is only 17 kilometres in perimeter, so in less than an hour you can do the whole thing in less than an hour. There is also an 11.3 km circular route for hikers, the Udo Olle Route. In any case, if you have time to spend a night on Udo, we're sure it can be one of the best Jeju activities. However, you can perfectly do it on a day trip from Jeju Island, we dedicated half a day to it.
The Haenyeo, another iconic sight in U-do, Jeju what to see
As we said, here you will see the octogenarian fisherwomen who dive to almost 10 metres to catch fish at full throttle. Supposedly, you can also see the Haenyo in Jeju during the Jeju woman diver show, but this is more of a tourist attraction or demonstration. In Udo, with this short Jeju day trip, you'll see them in action on every beach without putting on a show.
Udo also has paradisiacal white sandy beaches that contrast with its volcanic rock. Below is a photo where you can see one of the Udo beaches with the volcanic rock sculptures of the Haenyeo. If you like beaches, you'll have a great time in Korea, as Koreans don't like the sun and you'll be practically alone. Also check out the peanut plantations, which are very typical of Udo. That's why they also call it "peanut island".
🍽️ Restaurant Haha Hoho Udo to try Udo's peanut sauce burger.
🍽️ Restaurant On-off Udo to eat a good tonkatsu (breaded pork fillet) with a view of the sea.
4. Manjanggul cave, Jeju, South Korea things to do
The Manjanggul lava tube is also a World Heritage Site and therefore one of the best Jeju Island activities. It is one of the longest in the world at 7.4 km long. Although many call it Manjanggul Caves, it is actually a lava tube and you can visit part of it (about 1 kilometre). Inside you can also see the largest lava column in the world at 7.6 metres high. This is one of the things to do in Jeju when raining or if you are looking for indoor activities in Jeju because it is too warm. The temperature inside Manjanggul caves is around 12 degrees Celsius, so remember to bring a warm jacket. The walk takes just over half an hour (there and back). It's open from 9am to 6pm (last entrance at 5pm) and costs 4000 won per person (about €3).
5. Seogwipo: Jeongbang falls, Cheonjiyeon falls, Sojeongbang falls and Oedolgae rock
In the south of Jeju Island there are more places to visit. They are all in close proximity to each other. We recommend the city of Seogwipo as a base camp to visit all the sites mentioned below.
✔ Jeongbang waterfalls, unique things to do in Jeju Island, Korea
This waterfall is one of the top places to visit in Jeju, with a height of about 25 metres. And, according to the Visit Korea website, it is the only waterfall in all of Asia that overlooks the ocean. There is a fee to enter the waterfall, but it is only 2,000 won per person (less than €1.50 per adult). We were surprised to see signs at the entrance saying "don't touch the snakes", thank goodness we didn't see them haha. Below, we see Jorge filming himself in front of the waterfall for the super video we prepared about Jeju island and places to visit. He got all wet!
✔ Cheonjiyeon falls, Jeju island South Korea tourist spot
Cheonjiyeon is another Jeju Island sightseeing spot. It is very close to Jeongbang falls. Access to the waterfalls also costs 2,000 won (€1.50 per person). To reach the waterfalls, you'll pass through a beautiful garden area, but the walk takes less than 20 minutes. You can also visit Saeseom Island a short walk away by crossing the Saeyeongyo Bridge, which will take you no more than half an hour, although it's not a Jeju must-see.
🍽️ Restaurant 돌하르방잔치국수. If you're in the mood for Korean food after visiting Cheonjiyeon Falls, in the same car park you have this restaurant that we couldn't figure out its name in our alphabet. You can see the exact location by clicking on the link – we ate super homemade and delicious food!
✔ Sojeongbang falls
About 300 metres from Jeongbang Falls there is another Jeju island tourist spot: the Sojeongbang Falls. They are less spectacular, over 5 metres high, but while you're here, we recommend a visit. On the way, you will also pass the famous Jeju Olle Trail 6, a 13.3 kilometre trail that runs along part of Jeju's southern coastline. You'll also pass by the Conch Castle.
✔ Oedolgae rock of Jeju, what to do in the south
Finally, very close to Seogwipo city is the finger-shaped rock of Oedolgae. It juts out of the sea, reaching a height of about 20 metres. The scenery in the area is beautiful, as it is surrounded by islets. There are also natural pools nearby where you can take a dip.
6. Osulloc Green tea museum, top things to do in Jeju island
Another place to include in this Jeju tourist guide, also very close to Seogwipo, is the tea museum and its green tea plantations. Access is completely free and you can buy many delicious things made from tea, both souvenirs and to drink in the cafeteria. We tried a sweet, an ice cream and a milkshake, all of which were delicious! They also sell beauty products and have a restaurant. The facilities themselves are spectacular and being able to visit a tea plantation was a great experience.
7. Hyeopjae, best beaches on Jeju island
Hyeopjae was the Jeju Island beach we loved the most. Despite being a somewhat touristy area, it is less crowded than Hamdeok. Moreover, from here you can see a perfect sunset with Biyangdo Island in the background. There is a wide range of Jeju do food such as the black pork and Korean barbecue restaurants, but we didn't eat here, we just enjoyed a few beers overlooking the sunset.
🍽️ Restaurant Ebiga Food 이비가 짬뽕동광점. On the way to Seogwipo we stopped for lunch at this Chinese restaurant chain. Very good and cheap.
8. Jeju Folk Village Seongeup, Jeju places to visit
Seongeup Folk Village should also be in the top 10 places to visit in Jeju Island. This traditional Korean village is in the central east and a short drive from Seowipo and Seongsan. Seongeup Folk Village has nearly 500 years of history. Its houses are built with black lava rock walls and thatched roofs. There are houses where people live. Around the village you can enjoy a good tea from Jeju. This village is one of the free things to do in Jeju Island, as there is no entry fee.
8. Mount Halla trekking, places to go in Jeju island
Mount Halla or Hallasan is another of Jeju's attractions. It is the highest peak in South Korea at 1947m. It is right in the centre of the island, so you can access it from all sides. In addition, the park has several hiking trails for all levels. We didn't include it in our itinerary around Jeju, as we were told it wasn't essential (both by the Korean girl we flew with from Madrid to Seoul, and in some blogs we had read). In any case, we told you about it in case you had more time and interest.
We can't tell you the things to do in Jeju city because we haven't been there. However, we don't think this is a Jeju must visit. Depending on how many days you are in Jeju, you can chose other places to explore. For example, if you travel with kids you have to check the Jeju island Theme Park Dinosaur Land or Hello Kitty Island.
Finally, we would like to explain you the meaning of -si and -do in Korean. For example, Jeju-si and Jeju-do (South Korea). Jeju-si means city of Jeju and Jeju-do refers to the province.
Best places to stay in Jeju island
As we mentioned at the beginning, we spent three nights of our trip to South Korea sightseeing in Jeju. However, we didn't have time to visit it all, and we are very fast paced. The island is large, about 1,848 km². It is 73 kilometres from east to west and 31 kilometres from north to south. Therefore, to avoid travelling, the best area to stay in Jeju island depends on what you will visit. Here you have our itineray:
1 night at Seongsan, Co-op City Hotel Seongsan: para ir a la playa de Hamdeok, hacer excursión a Udo, subir a Seongsan Ilchulbong y visitar la Manjanggul cave. Tiene parking sin coste y buenas instalaciones, cerca de los puntos turísticos y cerca a pie de los restaurantes.
2 nights at Seogwipo, hotel Zinc. They have free private parking and the whole restaurant area is within walking distance. From here we visited all the waterfalls, as well as the Oedolgae rock. We also took a hop over to Seongeup Folk Village, the Jeju tea museum and Hyeopjae beach.
These two hotels where we stayed at were great for us. You can even stay in more locations. It all depends on how many days you have to spend in Jeju island. If you want to search for hotel deals in Jeju yourself, you can do so below.
How to get around Jeju Island & driving in South Korea
To visit Jeju Island, the best option is to rent a car at Jeju International airport. We rented it with Avis from Spain (about €180), but then the check in was done by a Korean company called SK. This was a bit of a hassle because you have to take a shuttle (most of the companies are outside the airport). I'm sure you can find better rental deals with local companies on the RentalCars comparator. We leave you with a funny picture of a lady covered from the sun while driving around Jeju – Koreans are very protective from the sun!
How do they drive in South Korea?
As you can see, in South Korea they drive on the right. In addition, the signs are perfectly understandable, but be careful with the traffic lights at the turns. On the other hand, keep in mind that the car rental company will ask for your international driving licence, as well as your EU driving licence (or that of your country). By the way, petrol is super cheap, we only put in €20 and we drove quite a lot and all the car parks at the places we visited were free. As we told you in our article about the best things to do in Jeju Island (South Korea) with tips, Google maps doesn't work in this country. We recommend downloading the Naver map app in Spain (to get the app) so that it downloads in English.
Jeju island food
If you can already eat very well in South Korea, there are many yummy things to eat in Jeju. The famous mandarins and oranges are delicious. You'll see plantations and juice shops everywhere. Jeju's black pork is also well known and you will find a lot of black pork bbq in Jeju Island. Moreover, Jeju food is also famous because of the fresh fish and seafood. For example, the haenyeo mainly fish for sea urchins, abalone, octopus and seaweed. In one restaurant we saw live abalone being eaten, the most prized Jeju seafood. Grilled fish such as mackerel or belt fish are also typical. Beltfish is also used to make a spicy soup with vegetebales called Galchi Jorim.
Jeju is also famous for its peanuts, and one of its star products is peanut ice cream, yum, yum! Finally, be sure to try their green tea, matcha tea and all the products made from it. No need to go to the green tea museum, in many convenience stores you can even find Jeju green tea cookies from the famous Hershey's brand.
We hope you find this article about our recommendations for travelling to Jeju helpful. If you are also going to visit Seoul and Busan, we leave you our articles, we are sure you will find them very useful:
Video: things to do in Jeju island 2023
Below we share the video of our trip to Jeju and South Korea in 2023. It is in Spanish, but at least you can have an idea of the landscapes of this island. In our YouTube channel you have all the videos of our Korean adventure.
Travel insurance South Korea
Finally, we always recommend taking out travel insurance to cover you for medical expenses in case of illness, accident, flight delays, lost luggage, etc. As our reader you get a 5% discount on all IATI policies, with whom we take out all our travel insurance.