If you are in Las Palmas de Gran Canaria and want to know which are the best restaurants in Las Canteras, in this post we mention some options. Also, they are all totally different. Along the promenade and its surrounding streets you will find food from different parts of the world. Korean, Italian, Japanese, Russian, Lebanese, etc. At the same time, it also has a wide gastronomic offer from different parts of Spain: Galician, Extremaduran, Canarian, Basque and Mediterranean cuisine in general. Below we are going to mention some of our favorite places to eat on Las Canteras beach. Let's go!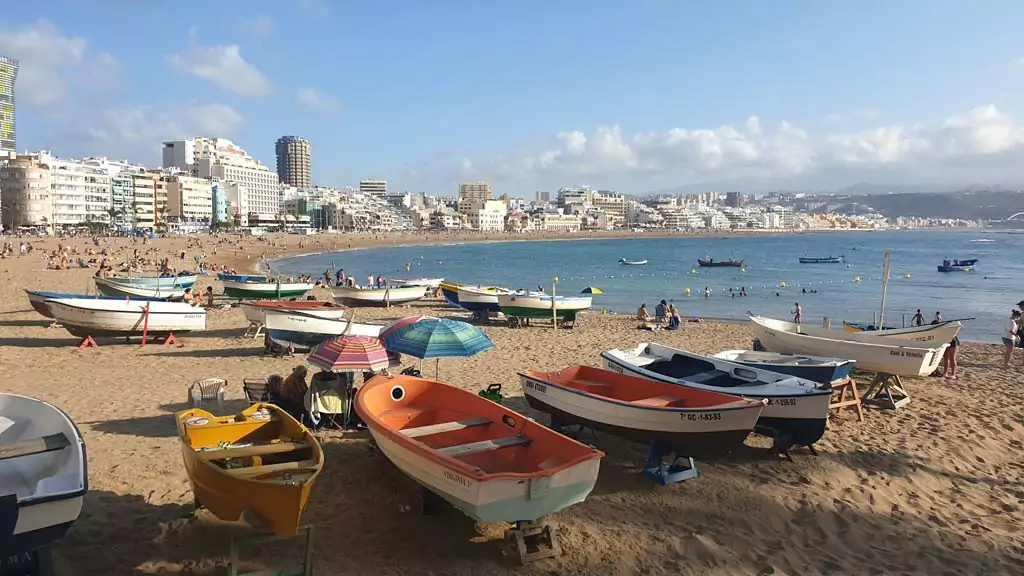 Best restaurants in Las Canteras
As Las Canteras beach and its promenade run almost 4 kilometers from La Cícer to La Puntilla, we are going to mention different options throughout the whole promenade. Of course, we will only suggest the restaurants that we know and only those that, of these, we would recommend.
✔ Best restaurants in Las Canteras, La Cícer
1. El Paseo restaurant
It offers typical Canarian food. It is next to the Auditorium Alfredo Kraus. The best is its terrace with sea view (always when it is not windy). We recommend you the fried octopus and the ensaladilla rusa (potatoes, tuna, mayonnaise, carrot and onion salad). It has one of the best values for money at the beach. It is also valid only to have a drink, since in this area there are good vibes. The average price is € 15-20 per person.
2. Maripili Las Palmas
If you want to try different things in a most beautiful place, you have to come to this restaurant. We loved their patacones, fish and chips, and even the hamburger. Anyway, as you can see below, for just an aperitif it's also great. It really isn't exactly on the promenade of Las Canteras beach, it is in the busy Plaza del Pilar square, less than 5 minutes from La Cícer. They also have a terrace. The price per person of this restaurant in Las Canteras is around € 25-30 per person.
✔ Best restaurants in Las Canteras, Peña La Vieja & Playa Chica
3. La Solana Las Palmas
La Solana Las Palmas offers haute cuisine from the neighbourhood. The haute cuisine is clear to us, among its dishes are the shoulder of suckling lamb and its three master croquettes: mussels in pickled mussel, Herreño cheese and 5 Jotas ham. We are witnesses that everything was spectacular. When we went we also tried the calamari puntillas with padrón peppers and romesco sauce, crazy! But be prepared to pay in one of the most expensive restaurants in Las Palmas. Let's say around € 50-60 per person.
4. Bululú Canarias
Its cuisine has Venezuelan origins (arepas, cachapas and patacones), although it also has spectacular dishes such as its homemade foie. Their menu also offers delicious vegan options such as watercress hummus with fried chickpeas. Finally, they have a super wide range of international beers on their menu. It's a place to go for sharing plates, so you can try a bit of everything. So, the price per person is usually around € 20-30, depending on what you order.
5. Monte Líbano, restaurant in Las Canteras with sea views
One of our favorite international restaurants in Las Canteras is Monte Líbano with Lebanese food. As you can see in the photo below, it has a terrace next to the promenade. The food is super tasty and we can say that it's quite cheap (around € 20-25 per person). We recommend the falafel, the Sambuseq Yebne (crispy pastry stuffed with Lebanese cheese, onions and mushrooms) and the Arabic burgul with lamb and nuts. You can see just these three dishes below.
6. Bodega Extremeña
The Bodega Extremeña restaurant is one of our favorite places to go for tapas next to Las Canteras. It offers regional products from Extremadura, such as Torta del Casar cheese. Also good Iberian hams from Guijuelo and Jabugo. We recommend the ham and foie sandwich, the salads, the cheeks, the Extremaduran "polvito"… Everything is delicious and very good value for money, as you pay around 20-25€ per person. Please note that they are not open for dinner on Saturdays or Sundays. You can imagine how well they do…
7. The Bikina Cantina
We have already told you about La Bikina on other articles because we think it has it all: a different and delicious gastronomic offer, friendly service, a terrace right in the middle of Las Canteras promenade and a good atmosphere. It specialises in world cuisines such as tacos, pad thai, pokés, etc. The price per diner is € 20-25. They also have very good vermouth.
✔ Best restaurants in Las Canteras, Playa Grande
8. El Arrosar restaurant
El Arrosar is the typical restaurant that has practically everything good from a Spanish diner's point of view: Iberian ham, fish and seafood, rice dishes, a great wine cellar and good desserts. We would like to highlight their rice dishes, which are on a par with those on the Valencian coast. If we had to put a downside, it is that it does not have a terrace or sea views, as it is on a street perpendicular to Las Canteras. We recommend the rice with garlic and choco, the black rice, as well as the grilled baby squid, fried anchovies, coquinas, Galician empanada… The average price per diner is € 25-30.
✔ Best restaurants in Las Canteras, La Puntilla
9. Camino al Jamonal
This place is a classic restaurant in Las Canteras for good Spanish tapas (mostly related to the Iberian world), although its tomato and avocado towers and variety of homemade dessert jars have also gained a good reputation. It is located just off La Puntilla, before turning onto the promenade leading to the Confital beach. As well as the tomato and avocado salad, we recommend the Iberian chickpeas, the Iberian churrasquito and the potato salad (ensaladilla). Oh, and leave some room for their desserts, which come in jars. We like the apple one, but there are a dozen options…
10. La Marinera & Casa Carmelo restaurant
Both Casa Carmelo and La Marinera (same owner) are two excellent options to eat in Las Canteras, both specialized in Canarian and Spanish food, but Casa Carmelo more focused on meats and La Marinera on fish and seafood. If you want to try local fish, we recommend the grilled cherne and the vieja fried. You should also try the gofio, made with the fish broth. Their house salad and calamari are also amazing!
The two restaurants have an indoor dining room and a terrace with views of the sea and the entire Las Canteras Beach. The price varies from € 20-40 per person, depending on whether you order fresh fish or some special meat and wine. We also recommend ordering the house salad in either of the two places. It has watercress, avocado, salmon, egg, onion, etc. It is the one that we show you above.
Restaurants in Las Canteras: video
Next we leave you with a YouTube shorts from our channel where we show you 5 of the previous restaurants, that is, of our favorites. Subscribe here and don't our new videos about Gran Canaria.
Best restaurants in Las Canteras and in Gran Canaria
And it is the end of our route about the best restaurants in Las Canteras beach. We hope that you agree with our opinions. If you want to know more places to eat in Las Canteras, such as in Las Palmas de Gran Canaria and in the whole island, you can not miss our restaurant guide with more than 80 places to eat on the island. Moreover, we have complete guides of the island per day including suggested places to eat per day. Have a look at all of them below and enjoy your holidays as a local!