On this occasion we want to share with you the best places to visit in Canada after our adventure through the country. The itinerary that we are going to share with you is for 12 nights taking several domestic flights to try to see as much as possible. We are sure that all the information will be of great help to you and that you will be able to make your own itinerary. We decided to go in June, since it does not coincide with school holidays and, therefore, the country would be less crowded. Also, it's much less cold hehe.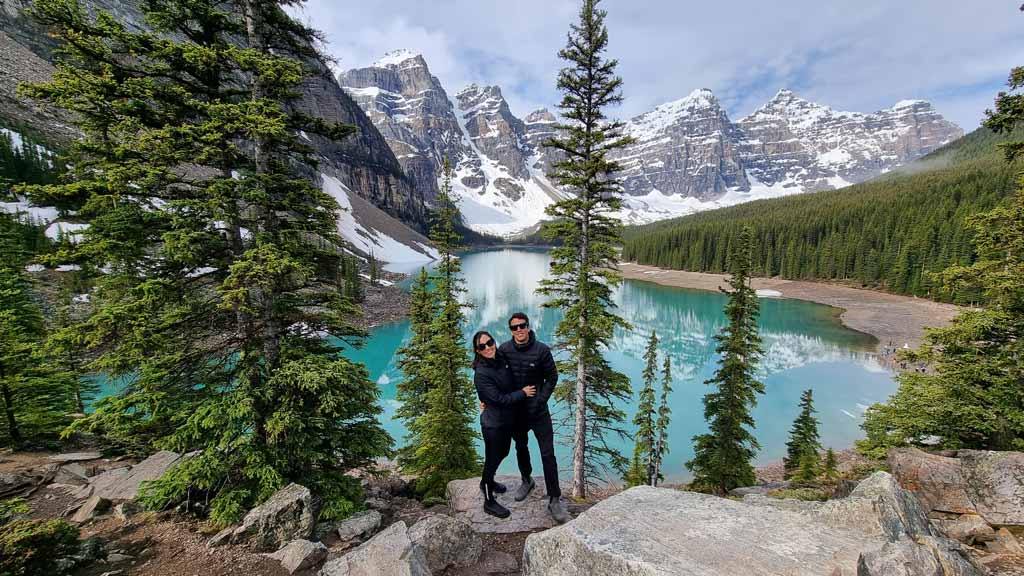 Below you can read all the content that you will find in this article:
The best places to visit in Canada. Tips for your trip and itinerary
Our Canadian itinerary began in Toronto. We fled direct from Barcelona with the Canadian airline WestJet. The plane was so new and modern, with various in-flight meal services and endless movies, highly recommended. We made the return trip through Montreal directly to London with Air Transat (also Canadian) and from London we flew to our island Gran Canaria. With which, they are two airlines to take into account to travel to Canada from Europe.
Below we detail the tour we did with the cool places to visit in Canada. You can adapt it to your trip according to the prices of the flights and the available days. Remember that at the end of this article we have an hour of video about our trip to Canada.
The ideal is to spend at least three nights in Toronto if you are going to visit Niagara Falls. We planned it, but WestJet airlines changed the departure day of the flight and we had no choice but to lose a day of our trip to Canada. By the way, if you don't have travel insurance that can cover any unforeseen event with flights, luggage, illnesses and accidents, we always contract it with IATI and we have a 5% discount for you.
Well, let's get down to business, below we'll tell you everything we think are the best places to visit in Canada.
Day 1: Things to do in Toronto, one of the best places to visit in Canada
Toronto is the largest city in Canada. In fact, it is very compared to New York. Even so, there are many skyscrapers of little interest to those who visit the city, so the tourist sites in Toronto can be visited in a day. However, you need to have another day to go on a day trip to Niagara Falls.
As you can see for yourself, hotels in Canada are not cheap. Well, nothing in Canada is. In Toronto we stayed at the Pembroke Inn about a 15 minute walk from downtown. The hotel met our must-haves: close to downtown, cleanliness, comfortable bed, and free coffee. Regarding the places to visit in Toronto, you should take into account the following attractions:
Go up to the CN Tower to have a 360º view of the entire city.

Its observatory is at an altitude of 447 m and was once the

highest viewpoint in the world

. It is currently the tenth, but the first in the American continent. It costs about 40 Canadian dollars to go up, so try to book it on a clear day and, if possible, to enjoy the sunset.

Yonge-Dundas square, that is, the Times Square of Toronto
St. Lawrence Market. An attraction of Toronto, both to visit it, and to eat.
Destillery District. It was formerly a super whiskey distillery. Now it's a pretty, pedestrian-friendly neighborhood filled with shops, bars, and restaurants housed in 19th-century brick buildings.
Old City Hall, opened in 1899
Square with the word Toronto, that is, Nathan Phillips Square. At night they light it up and just behind it is the new town hall.
Goodergam building or Flatiron Building. One of the greatest similarities of Toronto with New York. Next door is Berczy Park and the famous dog fountain
Harbor Front and the Toronto Islands for a panoramic view of the city.
China Town (paradise if you like Asian food)
Kensington Market
Shopping at Queens St from the Grafifty Alley
Royal Museum of Ontario and the AGO (Art Gallery of Ontario)
✔ Restaurants in Toronto
You should know that much of "Canadian" food is fast food. That is, hamburgers, pizzas and hot dogs. We recommend the following places to eat in Toronto.
St. Lawrence market. There are natural fruit juices, pastries, breads, cheeses, baggels, etc. We had a brunch based on pancakes and eggs benedict in a place called Paddington. You can also try a different thing at each market stall. This time we needed to sit down lol.
Destillery District. It has restaurants of different Mexican types, ice cream parlors, tapas, Japanese, pastry shops, oysters, breweries, etc. This place is well worth a visit, even if it is for an ice cream or a beer. It is all pedestrian and at night they light it up with small light bulbs and lanterns.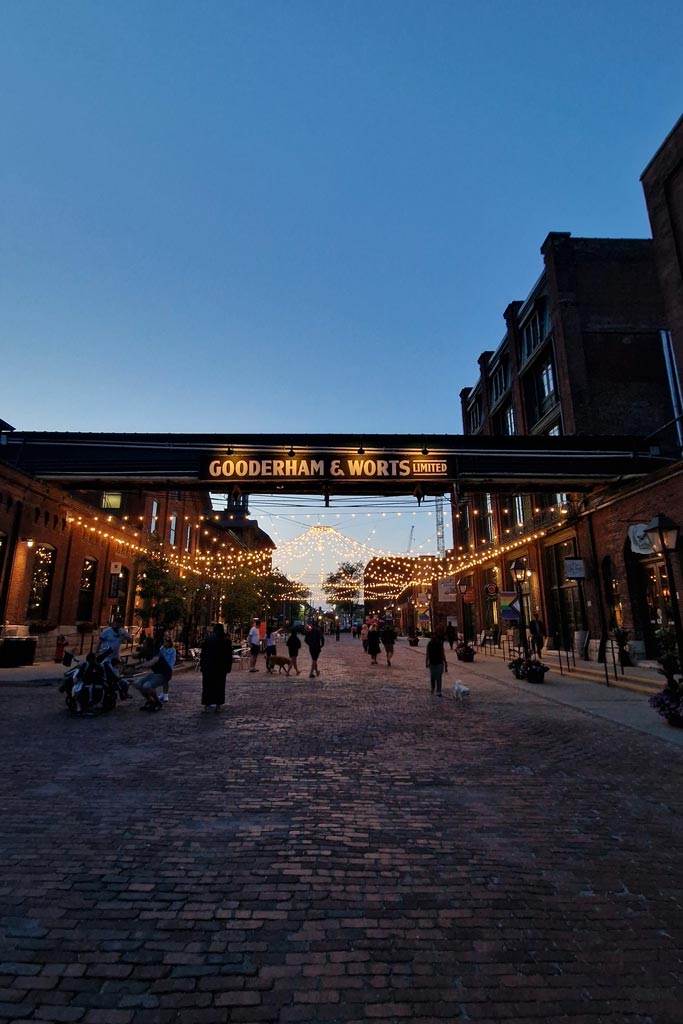 Pizzeria Bellisimo. If you are going to visit the Destillery District, on the way along the Harbor Front you will come across this pizzeria. It is not a fancy place, but it was tasty and cheap.
China Town. Asian food is a hit in Canada: dumplings, udon, ramen, bakeries, etc. This neighborhood of Toronto is full of options, you just have to get lost a little and choose the one that most appeals to you. We are sure that the food will be more homemade and cheaper than in any restaurant in downtown Toronto.
Day 2: Visit the Niagara Falls from Toronto. Things to do Canada
Niagara Falls is one of the best places to visit in Canada. In fact, it is also one of the most touristic sites. If you want to know how to get to Niagara Falls from Toronto, you can do it in different ways: by bus, by train, on an organized day trip or by rental car. We chose the option of getting there by bus with FlixBus, although you can also check schedules with Megabus and Greyhound… IMPORTANT: we recommend you book the bus in advance if you travel from June to September, we almost didn't visit Niagara Falls because we couldn't find a place to go and return on the same day.
At the same time, you should know that the falls are illuminated at night, so if you have time during your trip to Canada, an overnight stay may be an option. Anyway, the falls are in the city Niagara Falls, very similar to Las Vegas (just remembering it horrifies me). It is a very touristy place and we believe that it is not worth "losing" a night here.
✔ Things to do in Niagara falls. The best attractions
Niagara Falls cruise. You can book the boat online or once there. We booked it before for fear that there would be no availability (as happened to us with the bus), but honestly the boats were not full and there was no queue to buy tickets. Even so, if you are going to be safe, buying them in advance is one less uncertainty. The company that operates on the Canadian side is Hornblower's Niagara Cruises. On the other side, the Maid of the Mist ship leaves from the United States.
The viewpoint "To the Falls Welcome Center" with a view of the Horseshoe falls (the biggest one). Access is free and the view is the best, so you really don't need to spend a penny to see the falls (except for clear transportation). Some of the photos that we show you in this article are taken from there.
Cross the Rainbow Bridge to the US border with views of the Niagara River. If you have the passport and the ESTA you can cross into the US and re-enter Canada. If you don't have the ESTA like us, don't worry, take your passport and with it you can cross the border bridge for only 1 Canadian dollar. Payment is in cash. Be careful, they will ask for your passport to re-enter Canada, so do not cross if you do not have it.
As you may know, Niagara Falls can be visited from both the United States and Canada. Once there you will quickly realize that you will have the best view of the falls from Canada because we can see them from the front. In any case, if you have the ESTA visa, the two countries are very close and linked by the bridge. With what you can live the experience from both sides.
✔ Restaurants in Niagara Falls
This day we ate at one of the franchises that you will see throughout Canada called Freshii. It is a good option if you like to eat healthy and at a good price. They have salads, bowls with rice or quinoa, burritos and smoothies.
Day 3: Toronto-Calgary-Lake Louise
On day three of our itinerary through the best places to visit in Canada, we dedicated half of the day to visit some of the places that we mentioned in Toronto. The other half to travel, since we took a flight from Toronto to Calgary. By the way, also with WestJet. That is, we crossed half the country to get to the closest airport to the famous Canadian Rocky Mountains. Here are two of the most brutal national parks we have visited: Banff and Jasper.
To visit the two national parks, we rented a car at the Calgary airport and headed to the Lake Louise area. Only driving the Highway 93 from Banff to Jasper is one of the best things to do in Canada. You can check and compare prices at RentalCars.
To enter Banff and Jasper parks you have to pay about 21 dollars per day. Once you arrive in Banff, you indicate to the park ranger the number of days you are going to spend in the park with your vehicle and they give you a piece of paper that must be visible in your car. This already includes practically access to each of the natural attractions of the two national parks. Keep in mind that just traveling along Highway 93, the Icefields Parkway, is worth the entire trip to Canada.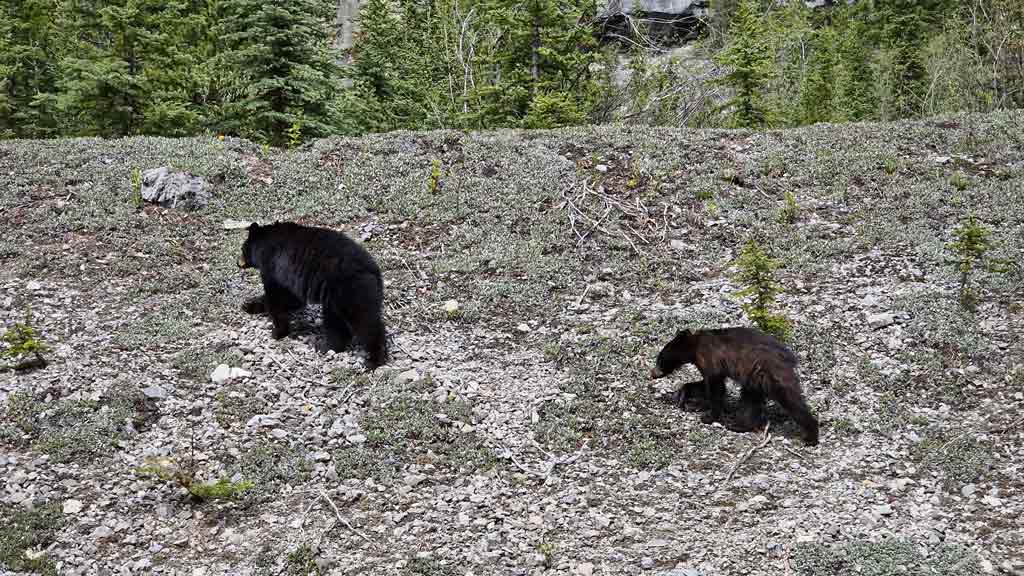 It's brutal how you drive and see mountains, forests and wildlife. We were lucky enough to see black bears, gray or grizzly bears, among other species such as elk, wild goats and some deer. Regarding the number of days to dedicate to these top destinations in Canada, it can be infinite since there are millions of trails and lakes to visit. In any case, we believe that three days is enough to see the essentials that we tell you below of Banff and Jasper.
Day 4: Things to do in Banff: Lake Moraine and Lake Louise
The first night was spent at the Lake Louise Inn inside the Lake Louise village. That is, as close as possible to the best tourist destinations in Canada: Lake Louise and Lake Moraine. In this way, we could visit them from first thing in the morning. Another option is to stay in Banff, but it's a 40-minute drive away. To visit the lakes, we recommend you do it on the public transport provided by Parks Canada given the limited parking next to the lakes. Now we explain you how.
Apparently people go from 6 in the morning to be able to park. The shuttle can be booked online in advance and the price is 8 dollars per person. It departs from the Lake Louise ski station and also includes transportation between the two lakes (Moraine and Louise), as well as the return. You can park your car for free next to the station from where the bus that we show you below leaves.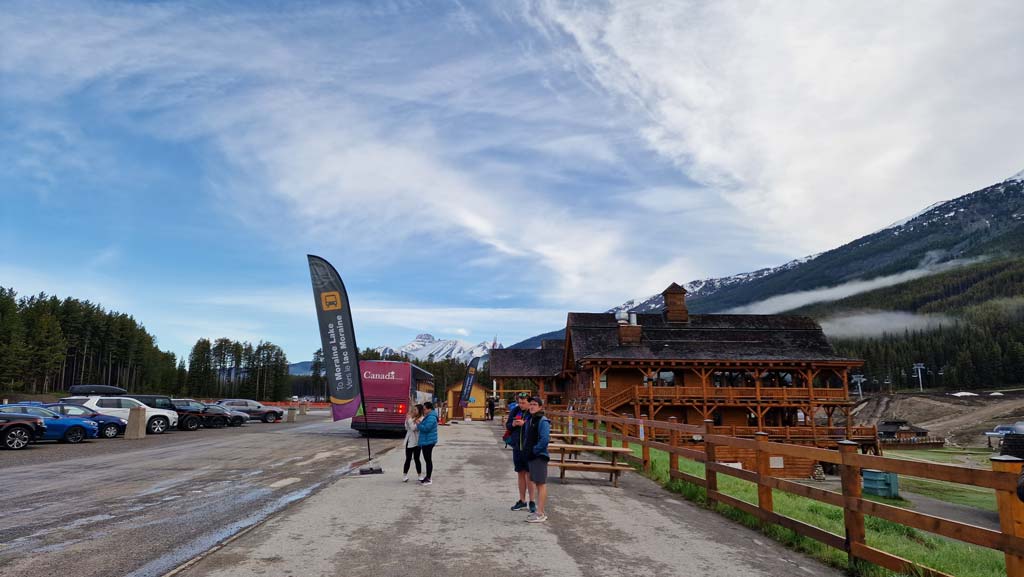 ✔ Lake Moraine and Lake Louise. The most beautiful places to visit in Canada
Regarding the visit to Lake Moraine and Lake Louise, the best natural attractions in Canada, it is possibly one of the most beautiful landscape we have seen so far. We were lucky to be able to see them completely thawed, the blue water and the snowy mountains. Just a few weeks ago they had just opened access to Lake Moraine because it was frozen (check it before you visit it). Apparently that month of June had been one of the coldest in recent years in Canada.
At Moraine Lake we recommend you go up the path that takes you to Rockpile to have panoramic views of the entire lake and its mountains. Also at the base of the lake you usually have a good perspective. The path is short and simple, it is about 10 minutes on foot. The bad thing is that it is not accessible for people with reduced mobility.
Regarding Lake Louise, we also visited it with the shuttle from Moraine. They are about 10 minutes from each other. We encouraged ourselves with a hike known as Agnes trail to Lake Agnes, which was still in the process of thawing. The idea was to climb the Big Bee Hive to get a panoramic view of Lake Louise. Unfortunately the trail was completely covered in snow and we were not prepared with spikes for the boots. So we went back once we reached the Tea House in Lake Agnes.
In any case, this ascent from Lake Louise to Lake Agnes was amazing, since from above the color of the water is accentuated as we show you in the next photo. Once in Lake Agnes you can take the opportunity to have a small picnic.
After our tour of the most beautiful lakes to see in Canada, we headed to Jasper where we spent the second night. On the way, along the famous highway 93, we stopped at Lake Bow, which was still thawing. In Jasper we had dinner at a Chinese restaurant, we were in the mood for some real food after so much pizza and burger. And for dinner the first night in Lake Louise we bought something at the supermarket in Banff.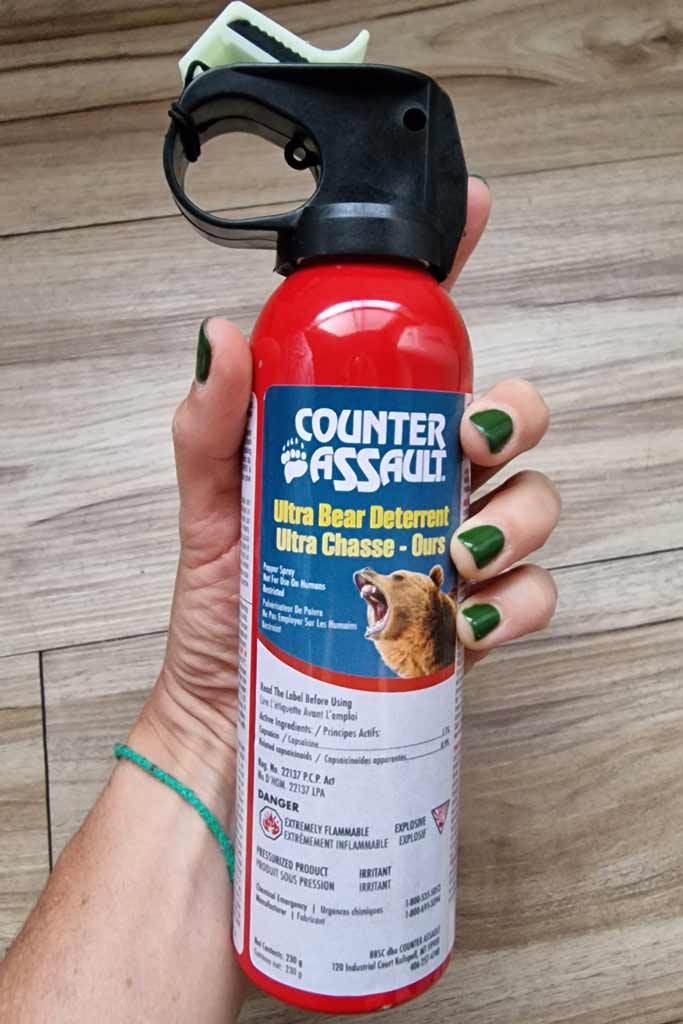 IMPORTANT: if you are going to hike alone (not in a group) it is recommended to bring pepper spray for bears. You can rent it by the day at Wilson Sports in the town of Lake Louise. In this case the price is 10 CAD per day. If you buy it, its price is 50 CAD, but you can't take it on the plane. For the routes we did, I don't think it was necessary, but hey, we were novices and we rented it.
Day 5: Lake Maligne + Icefields Parkway, things to do in Jasper & Banff
On our second day through Jasper and Banff, what we did was make all the stops for the tourist attractions of the Icefields Parkway. Also, first thing in the morning we visited Lake Maligne and Maligne Canyon. We mention it below:
Maligne Canyon. It's great, at least take advantage and visit the first three bridges.
Lake Maligne. We just went for a walk, although you can take a ferry to Spirit Island. The road to the lake is spectacular and we saw quite a bit of wildlife along the way: a moose, more bears (including grizzlies with their cubs) and a deer.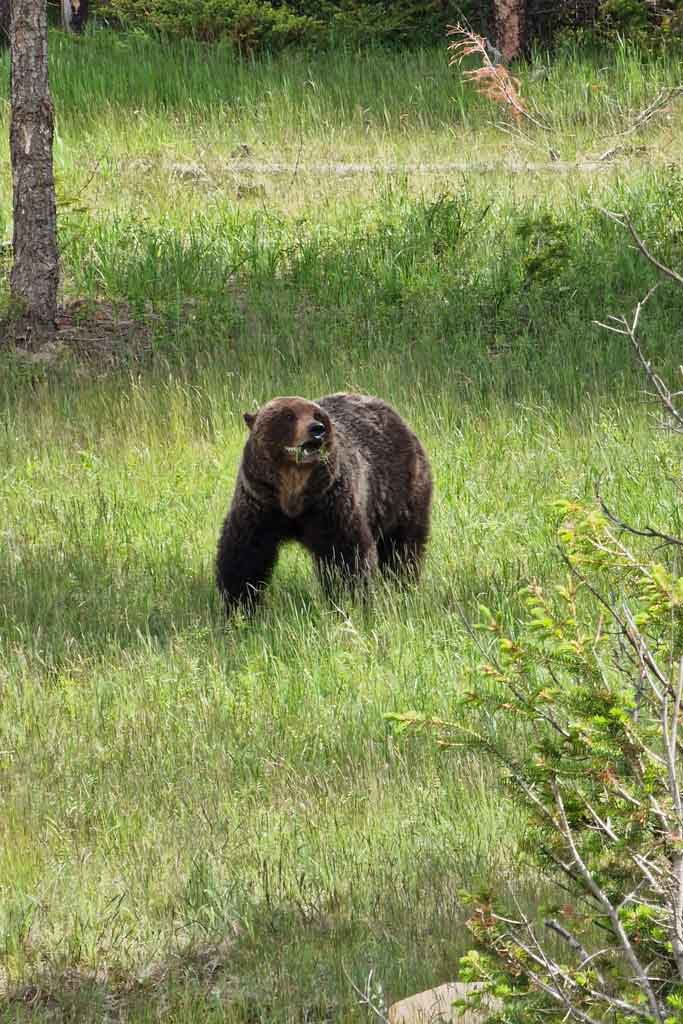 Athabasca Falls
Sunwapta Falls
Athabasca Glacier. There are guided tours, although the base of the glacier can be visited for free.
Mistaya Canyon
Peyto Lake and its viewpoint from Bow summit
Incredible route that we end with a delicious dinner in the restaurant of our Lake Louise Inn hotel and that we recommend you to stay. The following day we had a flight from Calgary to Vancouver. On the way to the airport, a guide from the visitor center recommended us to stop at Johnston Canyon along the A1 road that connects Lake Louise village with the canyon. During the journey we were lucky enough to see the second moose of the trip, although we did not have time to record it. They are more skittish and much wilder and faster than bears.
We continue our route through the top destinations in Canada in the city of Vancouver. Thanks to this blog we met George, a friendly Canadian living in Vancouver who once visited Gran Canaria. George gave us the best tips on where to eat in Vancouver that we are going to share with you. Before, if you like, we'll start by telling you about one of the best cities to visit in Canada: Vancouver.
Day 6: Vancouver, one of the cities to visit in Canada
One of the places that could not be missing from our itinerary through Canada was the city of Vancouver, recognized as one of the best cities to live in the world. We give faith. We loved the amount of green space in the city, even if you look at the buildings, almost all of them have trees in the balconies, terraces and attics. All this without counting the Stanley park, one of the largest urban parks in the world. Bigger than Central Park. At the same time, everything is full of bike lanes and therefore bikes.
The first day in Vancouver we only had time to take a walk around the center and have a super delicious dinner at a Japanese restaurant that we will tell you about in the section on restaurants in Vancouver. We were super tired from the trip.
Day 7: Things to do in Vancouver
In Vancouver we stayed in a humble hotel on the main shopping street Robson St. The Barclay Hotel. Basic, but super central. And a few steps away was Joe's cycle where we rented bikes to visit Vancouver by bike. It cost us about $30 per bike including lock and helmet. You can rent it for $7 an hour, but we'll pay it off until the end. We tell you what we visited on the first day, all by bike!
Stanley Park
Gastown and its steam clock
Granville Island and its market
Kitsilano Beach
Spanish Banks, Spanish Banks, perfect for sunset (we went as far as the University of British Columbia, but it's not necessary).
Yaletown, area of bars and little shops
China Town
English bay beach and a-maze-ing Laughter sculpture
✔ Restaurants in Vancouver
The city of Vancouver has a very large Asian community. Therefore, from there comes the influence on the offer of Asian restaurants in the city. Little paradise. We recommend the following places to eat in Vancouver that we tried and that our friend from Vancouver George recommended us:
Vietnamita Phnom Penh, China town. We also found this restaurant amazing. From 12:00 in the morning they had a queue. We recommend without fail to order the butter beef (a kind of beef carpaccio) and the chicken wings with garlic.
Korean Marutama Ramen Westend, nearby Robson St. If you fancy a ramen, one of the best known places in Marutama Ramen. Both this place and Danbo are famous for this Korean soup. The Danbo tends to have a longer queue and was recommended to us by more people, but we didn't feel like waiting.
Guu Garlic, Robson St. It is a Japanese restaurant with homemade food. We were captivated by his udon with mushrooms and another dish that was a kind of pork cheek with egg and tubers. The sushi was also delicious, but it already makes the price of the dishes much more expensive.
Chino Dinesty dumpling house, nearby Robson St. Another of Vancouver's mythical restaurants is the Dinesty. There are several throughout the city and they are specialized in the typical dumplings. Very rich and cheap.
Kingyo Izakaya, Denman St. This Japanese style izakaya cannot be missing from your list of restaurants in Vancouver. We loved the truffle carbonara udon and the corn on the cob or millet. To lick your fingers, just like that.
Finally, to have a coffee to go down the street, you will find a chain called Tim Hortons all over the country, it is cheaper than Starbucks. By the way, in Vancouver we discovered Phillips Brewing Dinosour beer with a touch of stone fruit (stone fruit, similar to apricot). You have to try it!!!!
Day 8: Vancouver: Capilano bridge & Grouse Mountain
Another of the places you can visit if you come to Vancouver is the Capilano Bridge park and Grouse mountain. Both activities are quite touristy and expensive as we see it. If you are traveling with children and you are not going to visit the Rocky Mountains, it may be a mandatory stop for you. If not, as we tell you in the video at the end of the post, we believe that you can spend more time exploring the city calmly and invest that money in a good Asian restaurant.
✔ How to get to Capilano Bridge and Grouse Mountain
To get to Capilano Bridge there is a free shuttle that leaves right from Canada Place, for the return you must show your access ticket to the park. The journey is approximately 30 minutes and leaves you at the same door. There are other stops to take the bus from downtown, but this is the first stop, so you have a better chance of getting a seat and not having to wait for the next bus.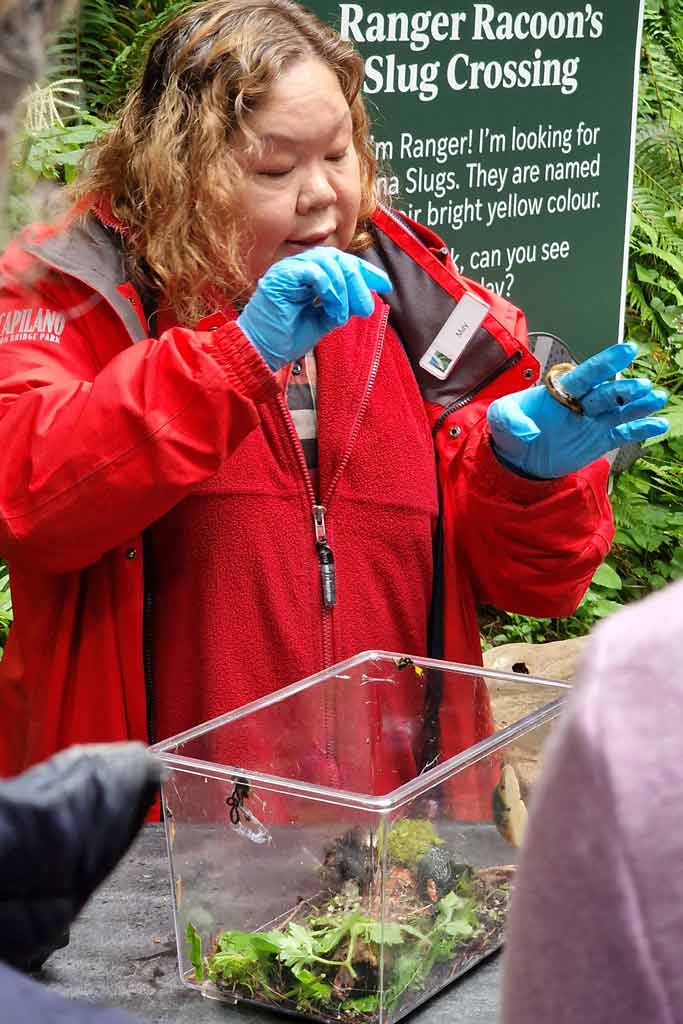 Once at Capilano Bridge you can take the bus to Grouse Mountain. It's number 236 and the stop is about 100 meters down the street in front of Capilano. That is, the stop going up Grouse Mountain. You must do the same to go down.
We had a cloudy day and the best thing about Grouse Mountain is the views, so we decided not to go up. To return, our friend George recommended that we continue on the 236 bus to the last stop at Lonsdale Quay. Right here you can visit the Lonsdale Quay Market and The Shipyards. From here you can cross to the other side of the city with the Sea bus to do something different and not return with the same Capilano bus. The journey is about 3 dollars by passing your card through the access to the terminal. The sea bus leaves you a few steps from Canada Place again in less than 15 minutes.
Day 9: Vancouver-Whistler, places to visit Canada
Whistler is a winter sports resort and an impressive bike park in the summer. As Jorge is a fan of MTB, this stop could not be left out of our itinerary with the top destinations to visit in Canada. We took a direct shuttle from downtown Vancouver to Whistler with Epic Rides. The journey takes about two hours and is much cheaper than renting a car.
In Whistler we stayed at the Mountainside Lodge hotel, one of the best hotels in Canada where we stayed. Be careful, if you are going to ride a bike, keep in mind that in the shops they will only rent you the bike, the helmet and the protections. Therefore, you have to bring your shoes, clips and glasses. Besides, in June there was still snow. So both some trails and some descents in the park were still closed. This is the case of Garbanzo DH.
Day 10: Things to do in Whistler. Places to visit western Canada
In Whistler you can ski in the winter and hike and bike in the summer. To go hiking in Whistler we recommend you do the trail of about 3 kilometers ascent to mid station (approximately one hour) from where the Whistler Blackcomb gondola starts. Then from mid station you can go up to the top of the mountains in the gondola. You can also take the gondola from the bottom, but you save a good peak. If you take the gondola from mid station you have to buy the ticket in town, it's about €60 and it includes the transfer to the top, then the peak to peak transfer, the chairlift to climb the Cloudraker, the highest suspension bridge in the world and the complete return to the town.
Keep in mind that in all of Whistler you will be able to find wildlife. What's more, in the same video we show you how a black bear crosses the bike park and lives with the cyclists. During the trail we could see marmots and squirrels and from the gondola some bear. So do not rule out finding a copy ascending. You know, try to be alert and not get close.
✔ Restaurants in Whistler
Crepe Montagne. They have brunch until 1pm if you don't feel like paying $25 for a crepe. If you are an eggs benedict lover, here you can also order them, but just for breakfast.
La cantina Tacos. The tacos are great for the price and the food is good.
Fat Tony's pizza. It is a place that is quite hidden and we only recommend if you want to buy to go.
Elements Urban Tapas. Here we ate delicious food. We recommend the falafel salad.
We also bought some sandwiches and fruit for the trip at Fresh St. Market. The truth is that it was not the typical white bread sandwich, they were good.
Day 11: Whistler-Vancouver-Montreal, best places to visit in Canada
We practically dedicated this day of our trip to transfers. First from Whistler to Vancouver airport, also direct and with Epic Rides. From Vancouver we flew to Montreal direct with Flair airlines. Then keep in mind that arriving in Montreal is 3 hours later than in British Columbia. We arrived at night at the hotel with Uber. We stayed a 10-minute walk from the center at the La Tour Belvédѐre hotel, a good option if you want to save something on your stay.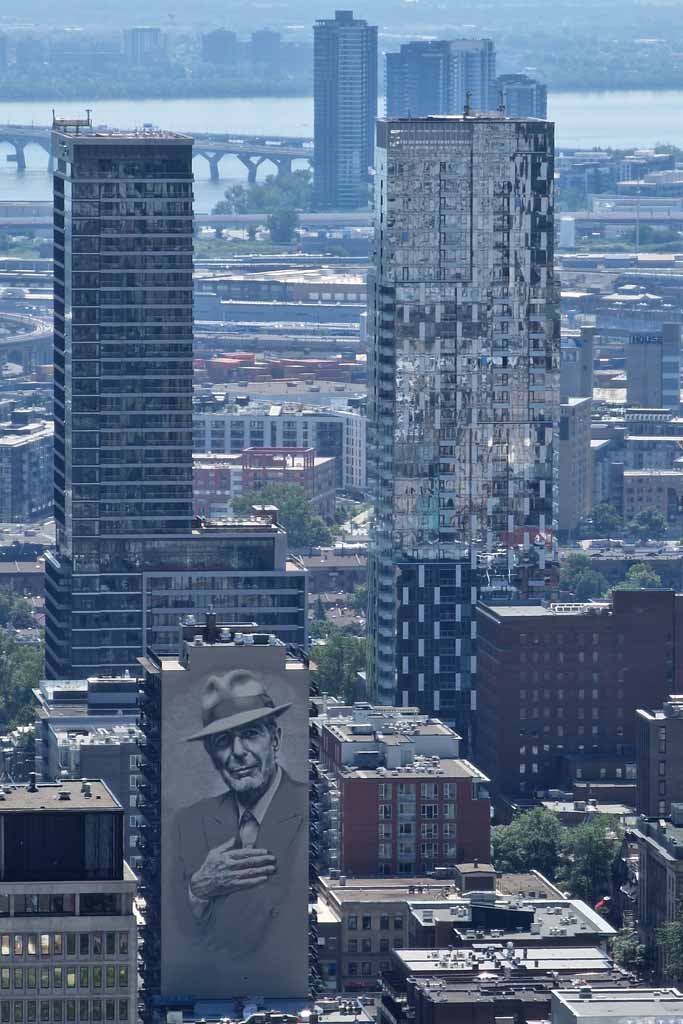 As we see it, the province of Quebec could not be missing from our tour of about the places to visit in Canada and we had heard very good things about Montreal. Known as the cultural capital of Canada. It reminded us a lot of Paris, Barcelona and even San Francisco. Life everywhere.
Day 12: Montreal, one of the coolest places to visit in Canada
Montreal is one of the best places to see in eastern Canada. Below we tell you all the things to do in Montreal.
Parque de Mont-Royal (Chalet) and the views from Chalet du Mont-Royal
Old Montreal and St. Paul Street. You cannot miss a stop to try the beaver tails and a visit to Notre Dame.
Old port. This area is super nice to walk along the San Lorenzo River. It has an avenue full of small craft stalls and local products, as well as a Ferris wheel, food trucks, bars and in summer you can rent rafts to ride along the river.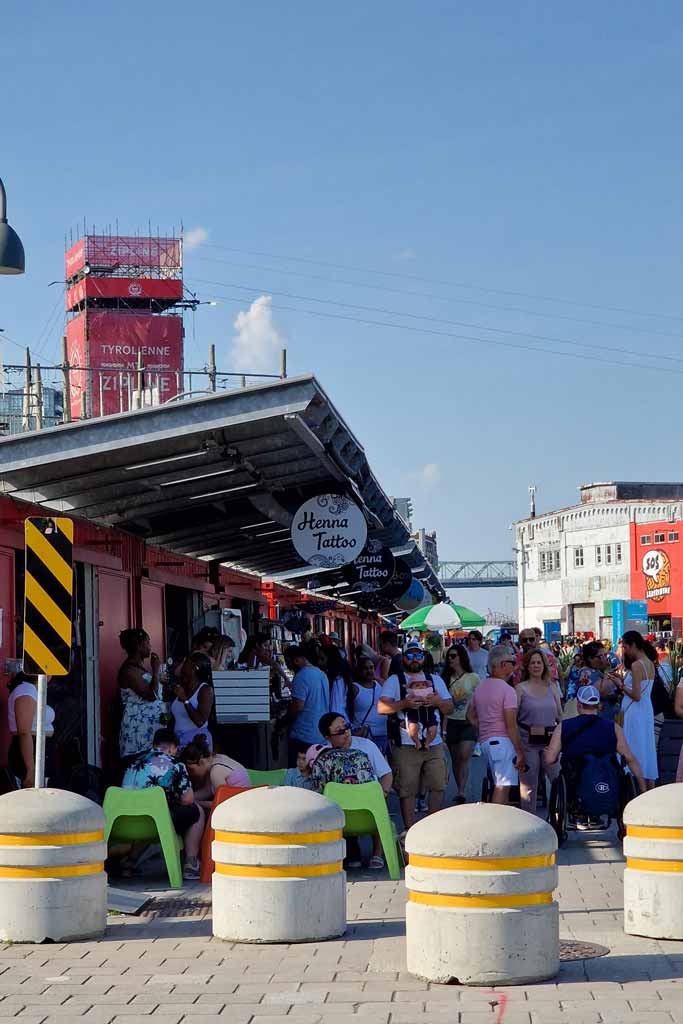 Mile End. It is a multicultural and artistic area of the city where you will find traditional bagel bakeries, brunch spots, cocktail bars, thrift stores and lots of street art. Around here you will also come across some streets where you can come across both Italians, Jews or Greeks.
Le Plateau and a walk through the Duluth avenue until the Graffiti Alley. Also another super cool area of Montreal full of shops, bars, restaurants and graffiti.
Downtown Montreal or Centre-Ville. In the center is the main shopping street Sainte Catherine, as well as the MAC museums (Museum of Contemporary Art) and the Montreal Museum of Fine Arts. Chinatown is located within centre-ville, so you can take advantage of it to visit it..
Basilica of St. Joseph. It has one of the largest domes in the world and is the largest church in Canada. We came by bike, not recommended because of the slopes.​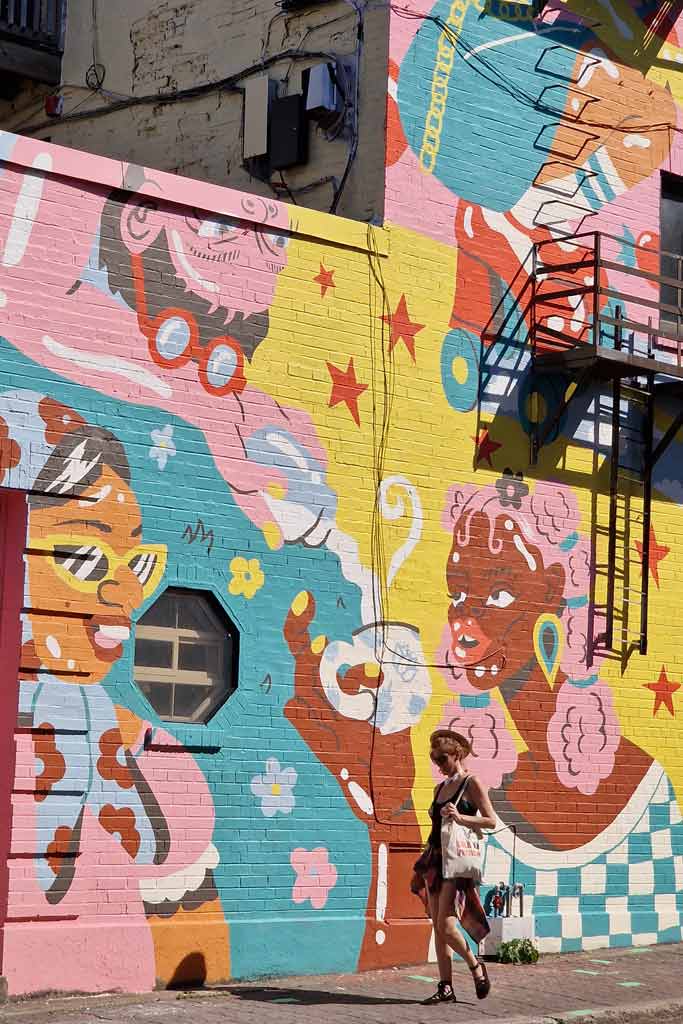 ✔ Restaurants in Montreal
Bagels in Fairmont or in St. Viateur, Mile end. To eat in Montreal we recommend trying the traditional bagels at Fairmont or St. Viateur Bagel. Be careful, there is a café in St. Viateur where they prepare it for you with the ingredients you want. The one by Plateau you can only add butter or Philadelphia.
Queues de castor or beaver tails, St. Paul, Old Montreal. This is another of Montreal's traditional dishes. In this case we talk about sweet. The flavor reminded us of donuts or churros. Then you can add toppings like ice cream, apple, maple syrup, etc..
Brunch en Restaurant B&M, Mile End. If you fancy a yummy brunch, or some eggs Benedict with fruit, you should keep this place in mind. We found it by chance and we loved it. Jorge ordered the super hero and I ordered the Benedict eggs with goat cheese and avocado.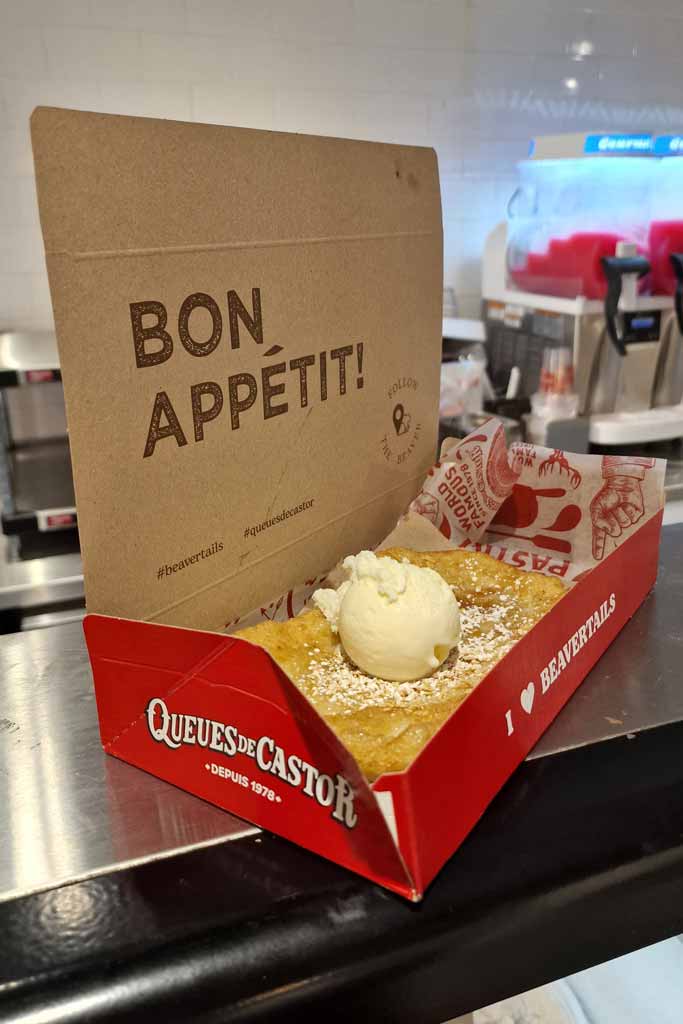 Food court Le central, China town. In the middle of the China town neighborhood we find a great food court where you can choose practically any type of food and share it with your loved ones in a central location. They have pizzas, poke bowls, burritos, Chinese food, Indian food, churros, etc. The site has a good atmosphere. We tried the pokés and it was delicious.
Poutine. It is a traditional dish from the Quebec region. Mainly cheese and a kind of gravy sauce made with red wine. You can also add meat or other ingredients. We tried it in Whistler and we didn't like it very much, so we didn't try it anymore hehe. In any case, maybe it wasn't the right place.
Day 13: Montreal-London-Gran Canaria
The last day of our trip was dedicated to buying souvenirs and visiting the church of St. Joseph by bike. Keep in mind that the souvenir shops in the center, i.e. on Rue Sainte Catherine, are cheaper than those on Rue St. Paul in the old town. On the other hand, in Montreal you can rent the typical city bikes that you pick up at one point and leave at another. However, to go to St. Joseph we do not recommend it as there are some good slopes. And this was our complete itinerary about the best places to visit in Canada. We hope it has been helpful 🙂
Video: places to visit in Canada
We leave you with a video report of our trip through Canada in 12 days. Without a doubt, one of the best trips of our life. We are not sure if we should put English subtitles in the video (it is in Spanish). If you want us to do it, please leave us a comment in our YouTube channel here 🙂
Best time to travel to Canada
We decided to go in June, since it does not coincide with school holidays and, therefore, the country would be less crowded. Also, it's much less cold hehe. In any case, we believe that the best months to travel to Canada are from June to September. Especially if you don't want to find a large part of its lakes, waterfalls and rivers completely frozen.
5% discount in your travel insurance
The medical expenses in countries like Canada are exorbitant, travel insurance is not very expensive and you will be able to travel peacefully in case of any unforeseen event with your flights, luggage or accidents. We have a 5% discount on all IATI travel insurance policies, with whom we reserve all travel insurance whenever we leave Spain.
Things to know before going to Canada
Finally, we know you may be concerned about the things to know before going to Canada, so as the entry requirements. From Europe you do not need a visa, but you must apply for the ETA for Canada online and pay a small fee before traveling. They will ask you before boarding the flight, as well as upon arrival at passport control (it is linked to your document number). Likewise, when we traveled (June 2022), PCR was not requested to travel to Canada, as long as you had the complete vaccination schedule and/or met all the requirements for entering Canada (note, it is only in English). At the moment you have to fill in the ArriveCan form with the app.
Below we mention you more things to know before traveling to Canada.
You can legally smoke marijuana
You can't drink alcohol on the street.
You have to tip in all the services as in the United States, minimum 15%
The tax does not appear in the prices of clothes, supermarkets, restaurants, it is always separate.
Canada and the European Union do not have an agreement to use mobile data free of charge (unlike the United States).
SIM card in Canada
We bought our SIM card in Canada with Lucky mobile at the Eaton Toronto shopping center a few steps from the old City Hall. We paid about $56 for 10 GB for a single card. Then between us we were sharing the internet. We use it only for queries related to the trip so as not to spend data on the first day: Google maps, restaurants, ticket purchases, attraction hours, etc. In the places with WIFI we were connecting and that is how the data lasted until the end of the trip. We had a hard time finding a store that would sell us the SIM card, if you don't want the same thing to happen to you, look directly for the Eaton of the city you land in.
We hope that all this information has been helpful to you. If you have any questions, please leave us a comment. That question may be common for other travelers too 🙂 See you on the next trip!