Deciding on the best beaches of Gran Canaria is not an easy task. And more when we talk about an island with about 100 beaches and natural pools. However, in this post we will try to select the best and always avoiding the most tourist beaches such as: Puerto Rico, Amadores, Anfi del Mar, among others. And, unfortunately, around these beaches the Canary Islands culture and gastronomy are hardly promoted, but the whole environment is tourist. Which does not mean that the beaches are well and have a wide range of services. Although each person should make their own choice.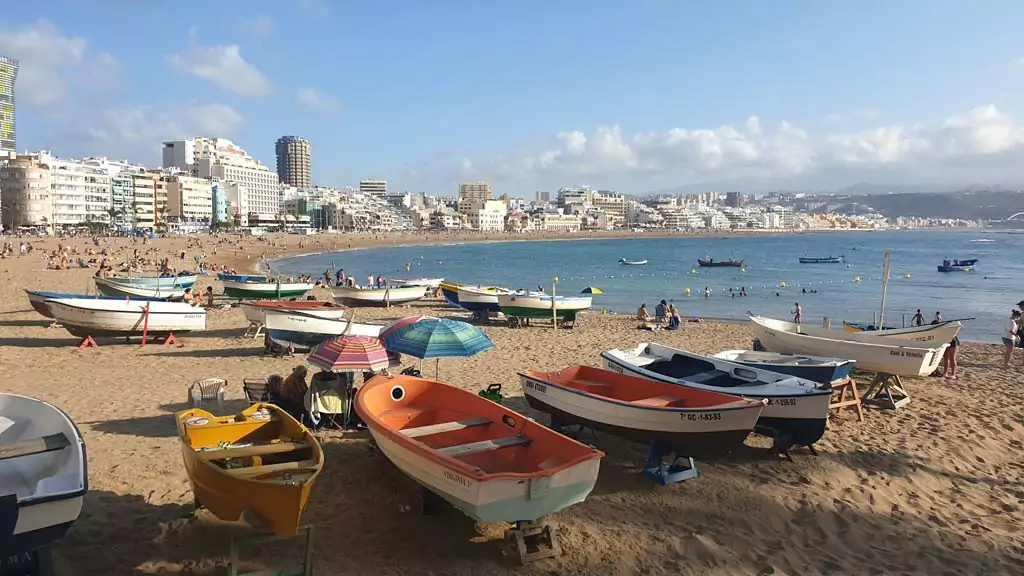 Our best beaches of Gran Canaria
In any case, with this post we hope you discover great beaches in a local environment and as little tourist as possible, that's why we are your local guide of Gran Canaria. Of course, you will have to accept the challenge of walking a little or a lot to reach the most paradisiacal beaches.
1. Las Canteras beach, Las Palmas de Gran Canaria
Without a doubt, we can affirm that this is the best beach in Gran Canaria for us and for many of the inhabitants on this island. Las Canteras is not an urban beach, it is an earthly paradise in the middle of Las Palmas de Gran Canaria. Its waters are Caribbean, its golden sand, has all kinds of services and a 4-kilometer avenue full of restaurants of all kinds. In addition, thanks to the reefs of La Barra, it is a very safe beach without waves (except in the area of La Cícer). You can learn more about it by clicking here: Las Canteras. It is a nice beach to go with children.
2. Maspalomas beach, San Bartolomé de Tirajana
The second place on our list of the best beaches in Gran Canaria is occupied by the other jewel of Gran Canaria: Maspalomas beach. If you like to walk on the sand, this is your beach. As it is so long and wide you can walk comfortably without feeling crowded at any time. It joins the Playa del Inglés beach at a certain point and together they make 6 kilometers. It has a nudist and gay zone, so don't be scared if you start to see complete nudes in the middle of the way. You can not leave Gran Canaria without getting on a dune and running down or rolling hehe. Also, the views from the top are incredible. It is also a nice beach for kids.
3. Sardina del Norte beach, Gáldar
Who would say that in the north of Gran Canaria we would find golden sand beaches like Sardina del Norte. Also, with blue flag! This is with a wide range of services for the user. At the same time, its surroundings are purely local. Sardina seabeds are also observed by divers from around the world, do you dare? This beach is also recommended to go with children.
4. San Agustín beach, San Bartolomé de Tirajana
San Agustín beach is one of the favorite of the locals. Here many locals spend the months of July and August with their families, so it is highly recommended to go with children. In winter it is the paradise of the Swedes. The beach has the blue flag and a pleasant walk along it. To eat around the area, do not miss El Capitan restaurant overlooking the sea.
5. Tufia beach, Telde
Telde has many quality beaches and we would love to include them all in this list, but we keep this one. Tufia and its marine environment make us fall in love. It is a very peculiar and unique site that you should know on your visit to Gran Canaria. It is also a good beach to start diving. You can go with children perfectly, but there are rocks in the access to the water as you can see below.
6. Guguy or Güigüí beach, La Aldea de San Nicolás
Here is the most paradisiacal beach in Gran Canaria: Guguy or Güigüi. Worst of all is its access on foot after a 2-hour walk each way. The best, that you will be practically alone on a beach surrounded by cliffs and without phone signal. Only for the most adventurous, given the complexity of the trail, the lack of services and surveillance, although it is not a dangerous beach. If you are curious to discover it, we strongly recommend that you visit this post about Güigüi beach with tips. We cannot recommend this beach to go with children, unless you go on an excursion by boat.
7. El Agujero beach and natural pool, Gáldar
On the northern coast of Gáldar we find the beach of El Agujero, although there is little beach, since the large natural pool overshadows any other place for bathing that may remain at low tide. We like it because it is ideal for swimming in salt water and, of course, for its local environment. We hope you too! Here you can come with your family perfectly, since being a pool, it has no waves. In addition, there are mini beaches with golden sand for the little ones.
8. El Pirata beach (Morro besudo), San Bartolomé de Tirajana
This is one of our favorite beaches on the island. Maybe because we discovered it late and we fell in love. We can say that it is one of the hidden beaches of the island. The atmosphere is very quiet and, although officially not indicated, many people practice nudism. Of course, as in any beach in the world, in summer the panorama changes. If you come with a baby trolley, access will be complicated because there are only stairs to go down to the sand. Otherwise, ideal also for families, but without surveillance.
9. Montaña Arena beach, San Bartolomé de Tirajana
Montaña Arena is a virgin beach of Gran Canaria and difficult to access, although in just 15 minutes you have it. And believe me, it's worth it. It is a nudist beach and quite frequented by campers (in summer it is impossible to be). Here you will not have phone signal and the water is crystal clear, making it ideal for anyone looking for total disconnection. You should know that it is also a commonly accepted beach to go with dogs, since there is no surveillance. Here we do not recommend you go with the kids because access is not so easy to go with barges + a child, in addition, as we say, there are usually dogs. In any case, many Canarian families frequent it.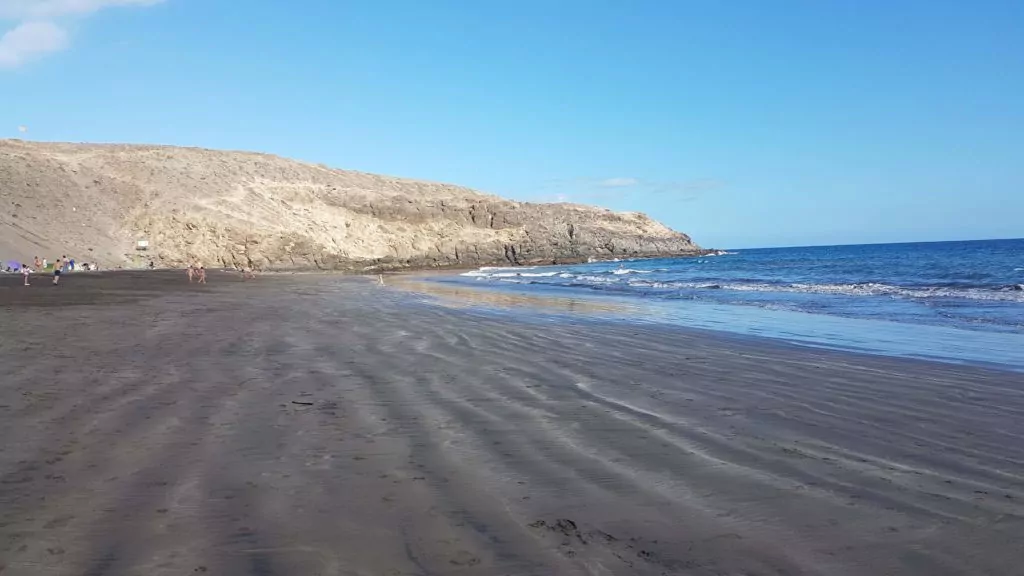 10. El Cabrón beach, Agüimes
In the southeast of Gran Canaria, in the coast of Agüimes, we have another of the best beaches in Gran Canaria for scuba diving. It is El Cabrón Beach. In addition, since the access to the beach is by a dirt road with some holes or walking, it is not a crowded beach, nor tourist. Of course, it has no services. You can come perfectly with children, but keep in mind that sometimes is windy and there is current here. Moreover it is not a beach with surveillance.
As you have seen, most of the best beaches are in the municipality of San Bartolomé de Tirajana, in the south of the island. And, it is where much of the tourism is concentrated. However, this area is just 40 minutes away from the capital by car. In any case, northern, eastern and western beaches are also mentioned. In short, in Gran Canaria we are lucky ones. We have paradise to spare. Which is your favorite? Have we agreed on any? Leave us a comment.
Family beaches in Gran Canaria
Moreover, we take the opportunity to mention the 10 best beaches to go with children in Gran Canaria according to our experience. They would be the following:
Mogán beach
Maspalomas / Playa del Inglés
San Agustín
Patalavaca
Las Burras
Amadores
Anfi del Mar
Las Canteras
Puerto Rico
Melenara
Hidden beaches in Gran Canaria
Below we leave you with a short video about 5 hidden beaches in Gran Canaria which you are not going to find in any guide. Subscribe to our YouTube channel and don't miss more videos like this!
Guide to beaches and natural pools
Finally, if you want to know all the beaches of Gran Canaria, we recommend our Guide to beaches and natural pools of the island with more than 80 places to swim and sunbathe along the coast. Some of these sites are hidden and we have not wanted to share them publicly to avoid their overcrowding. Thanks for letting it stay that way if you decide to buy this guide 🙂