We all have looked for bakeries in Las Palmas de Gran Canaria or bakeries in Gran Canaria for a special occasion. Also, to have a sweet bite when we want to meet someone or simply when we are touring the island. If you are not from Gran Canaria, you might even wonder what are the typical sweets of Gran Canaria? Where to find the best cakes, croissants, muffins (cakes) and all kinds of tartlets or pastries? Keep reading because in this article we have collected 15 bakeries throughout the island with their different specialties. Here we go!
The best bakeries in Las Palmas de Gran Canaria
Next, we will review the best bakeries in Las Palmas de Gran Canaria so that, depending on the type of sweet you are looking for, you can choose. Below we review the bakeries in Gran Canaria that we like the most.
1. Guirlache, bakery in Las Palmas de Gran Canaria
Known for its cakes, Guirlache Triana is one of the most famous bakeries in Las Palmas. Now they also have a bakery in Las Arenas and even have opened a gluten-free bakery in Las Palmas: Guirlache Gluten Free. We are fans of their chocolate Mozart cake and usually order it for family or friends gatherings. Here's me celebrating my 30th, a few years ago hehe.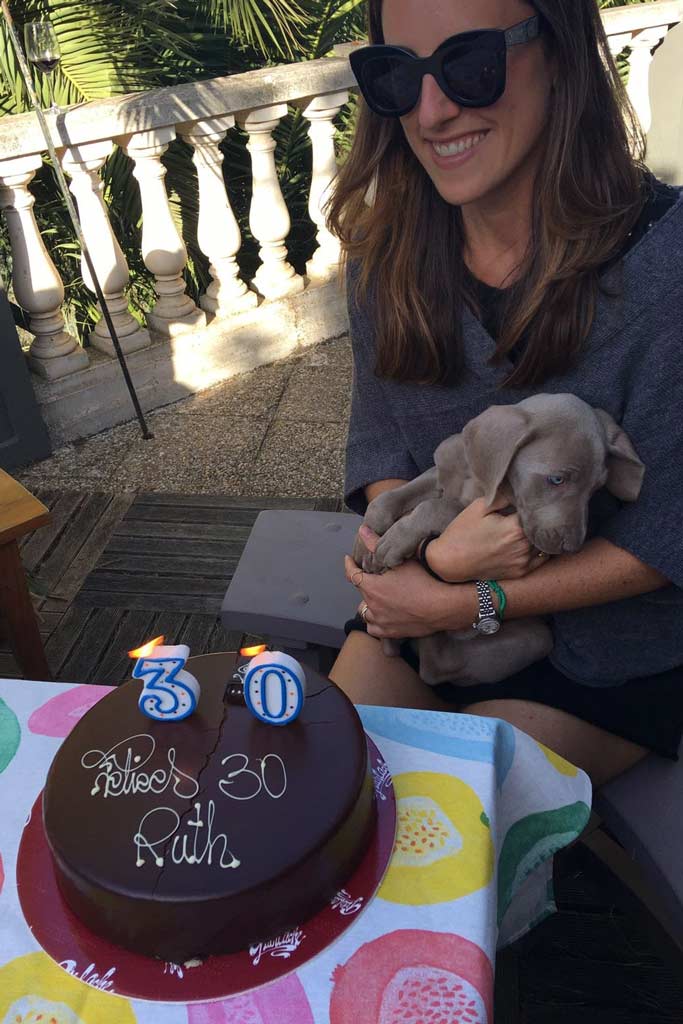 2. Colomar, pastry shop in Las Palmas with the best croissants
If you're a croissant, take note of Colomar pastry shop in Las Palmas de Gran Canaria. Colomar's croissants are their biggest claim to fame and every time they bring out a batch they fly. So if you want several for a special occasion, it is essential that you reserve them in advance. Its founder was Mallorcan, so you will also find good ensaimadas here. On the other hand, if you want a good roscón de Reyes, the one here is one of the most popular at Christmas.
3. Texturas de Chocolate Patisserie
For the cheese lovers and/or cheesecake aficionados, jot down this patisserie in Las Palmas de Gran Canaria. It's renowned for its goat cheese cake: loaded with cheese, gluten-free and low in sugar. They also create other specialties like pistachio cake or 70% chocolate cake. Here you can also find pastries, semifreddos, cakes, tartlets, and a cake (or 'queque' as we call it in the Canaries) of chocolate, walnuts, and orange that is to die for. They are located on Perojo street (near Triana) and their terrace is very pleasant to enjoy their sweet and savoury bites.
4. Ave Patisserie Las Palmas
If what you're looking for is good artisan pastries, remember the name Ave Patisserie. We highlight their croissants of different flavours, cinnamon rolls, chocolate babka, raisin snails and pistachio napolitanas, with the latter being particularly notable. They also have tartlets, semifreddos and make beautiful custom cakes (for weddings, birthdays, christenings or personalised events).
5. Reyes Patisserie Las Palmas
If you're on the hunt for the best cakes in Gran Canaria, be it for a birthday, christening, wedding, etc., Reyes Patisserie is another significant one in the capital. Here you'll find plenty of options as well as tartlets, mille-feuille or cakes. This is also an excellent choice to buy sweet potato pastries, polvorones, turrones and a good King's Ring Cake during Christmas.

6. San Martín Patisserie Las Palmas
This is one of the best patisseries in Gran Canaria to buy French mille-feuille, as they are specialised in French sweets. They also make custom cakes, both for children and adults.
7. Panalogía, bakeries in Las Palmas de Gran Canaria
More than a pastry shop, this is a workshop where you can acquire loaves of artisanal bread and tasty pastries. Their sweet specialties include: cinnamon rolls (sometimes they also make them with chocolate), lemon pound cake, and panettone (especially in autumn-winter). You can also buy homemade granola, brownies, cheesecake, carrot cake, among others. In summary, you might find the best cinnamon rolls on the island here.
8. Truffles, pastry shops in Las Palmas de Gran Canaria
As its name suggests, it is the realm of truffles. But not only that, their cakes, mille-feuille, and mini tarts are an excellent choice and will make you look like a king for any event with friends or family.
9. Parrilla Sweet Shop
This is one of the oldest pastry shops in Gran Canaria, crafting sweets since 1906. We highlight the typical anise buns, foam buns, mille-feuille filled with meringue, their various cakes and a variety of pastries, like their honey loops or those dipped in chocolate.
10. La Madera, bakeries in Las Palmas de Gran Canaria & Telde
This Gran Canaria pastry shop is famous for its almond pastries, either simply made of super crispy puff pastry or filled with chocolate or angel hair. Additionally, it offers a wide variety of sweets and cakes of all kinds. They have several pastry shops in Las Palmas (Triana, Mesa y López, Los Tarahales, La Minilla…). Likewise, you can find the La Madera pastry shop in Telde (San Gregorio neighbourhood) and just a few steps from Salinetas beach. We share several locations around the island, as they are also present in Santa Brígida.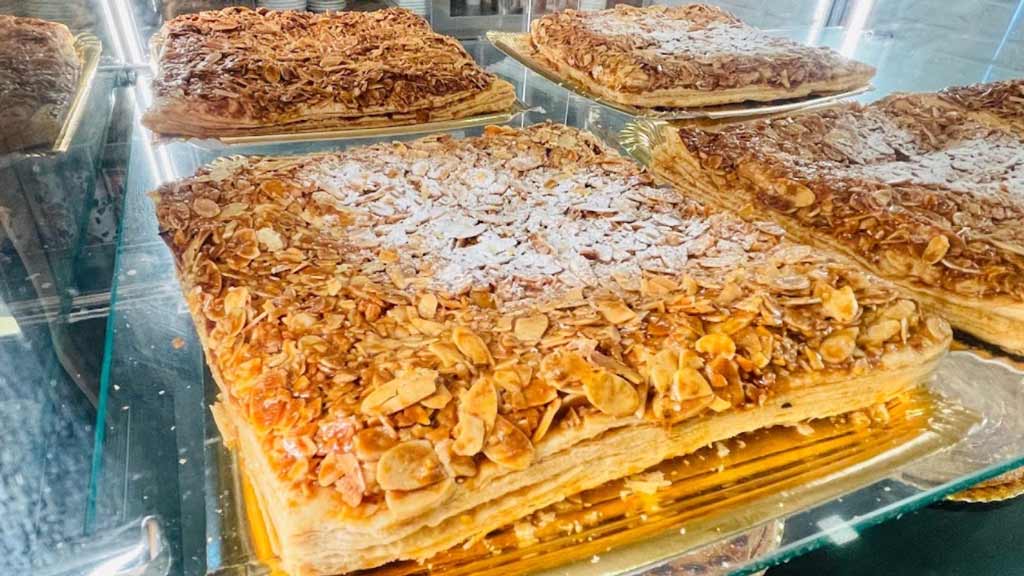 By the way, if you're visiting the island, don't miss our article with the must-see places in Las Palmas de Gran Canaria.
The best bakeries in Gran Canaria
Now, if you like, we detail some of the best bakeries in Gran Canaria that you can enjoy in different areas of the island.
11. La Cerdaña, pastry shops in Gran Canaria (Santa Brígida)
La Cerdanya is a home-style pastry shop you'll find in the municipality of Santa Brígida. From here, we love their lemon cake, possibly one of the best on the island. They also have other types of cakes like sacher, apple or cheese. So, it's a great plan if you want to meet someone for a little coffee and enjoy a slice of a good cake. Also for taking to the typical meal with friends, although it's better to order it in advance.
12. Dulcería Nublo, bakeries in Gran Canaria, Tejeda
This is famed for its sweets made with Tejeda almonds, and lately, for its more than 20 flavours of chocolate palmiers. It's a must-visit for those travelling to Tejeda. Here you can buy typical sweets of Gran Canaria such as anise buns and the famous bienmesabe. Their almond polvorones, stuffed almonds, almond nougat, and wood-fired marzipan are a draw at Christmas.

13. Dulcería Benítez, pastry shops in Gran Canaria, Teror area
This sweet shop is also one of the oldest on the island, having been passed down through three generations. With over 80 years of tradition, it is the perfect place to enjoy the typical sweets of Gran Canaria such as the famous sweet potato truchas. It's also well-known for its sweets named "fried egg" and the petisú or éclair. Take the opportunity to discover the essential things to see in Teror with all our recommendations.

14. Pastelería Yeray Reyes, Vecindario and Alcampo (Telde)
If you are in search of good éclairs, Reyes Patisserie is a go-to for preparing this delicate pastry in various flavours. They also make tarts, croissants, and palmiers with different toppings. They have always been in Vecindario, but recently opened a patisserie in Alcampo, Telde.
15. Paneri Pan & Café, Vecindario
Paneri Pan & Café is a bakery in Vecindario known for its variety of loaves and breads. In fact, it's one of our favourite spots to have breakfast in Gran Canaria. However, we can't miss mentioning their artisanal sponge cakes made with 100% natural ingredients. They also make croissants and delicious little palmiers, both normal and wholemeal. Recently, they've added more sweet temptations to their offerings like the cinnamon rolls with pistachio cream.
Guides to Gran Canaria
Before concluding, we can't help but invite you to discover the more authentic side of Gran Canaria with our digital guides. You'll save time in organising your trip and won't miss any must-see spots in Gran Canaria. You can check them all out below with a simple click.
We are Ruth & Jorge, Gran Canarians with a travelling soul. Experts in tourism and digital marketing. We share the most authentic side of Gran Canaria (where we live) and… our adventures around the world!