In this post we want to let you know the best things to do in Arucas village and coast. First, you have to know that it is the third largest city in Gran Canaria and one of the most local municipalities on the island. Arucas is located in the north of Gran Canaria, approximately 15 minutes from Las Palmas de Gran Canaria. Its capital is surrounded by banana trees and has a beautiful old town. Here we tell you the places to visit in Arucas and the main tourist attractions of the municipality. Don't miss the video at the end of the post!
Things to do in Arucas, Gran Canaria
In the following lines we are going to give you all details about the best places to visit in Arucas. Let's go!
1. San Juan Bautista parish
One of the most characteristic icons of Gran Canaria is situated in Arucas. It is the parish Church named San Juan Bautista, though the locals usually call it by mistake the Arucas Cathedral. This church is neogothic style and it was started to be built in 1909 and finished officially in 1977. They say that it was built by hand, with any type of mechanic or technologic help. It is completely sculpted with the centenary stone of Arucas.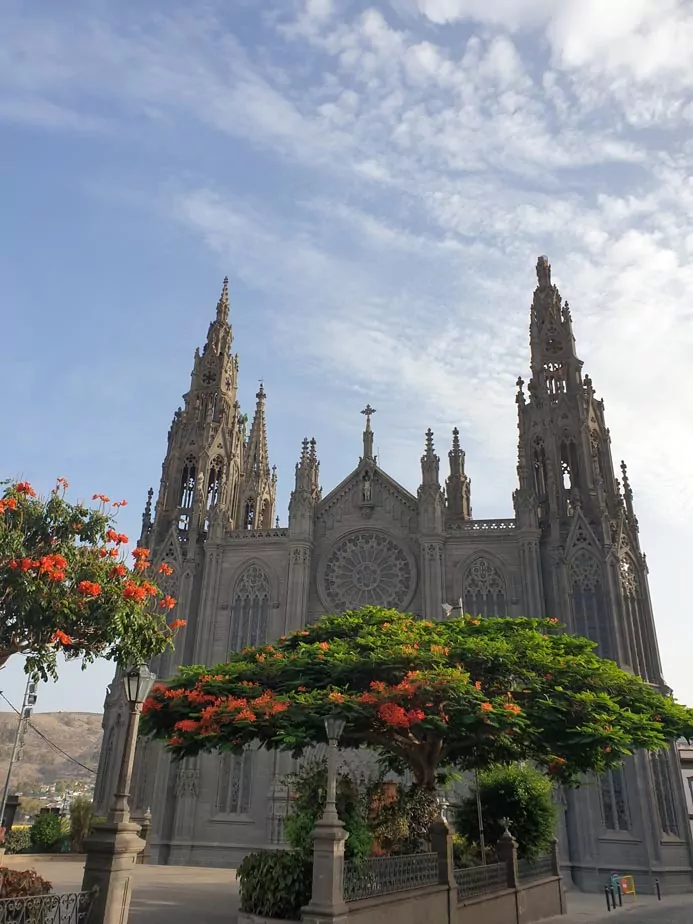 If you are interested in visiting it, you can do it from 1st January to 31st December from 9:30 am – 12:30 pm and 4:30 pm to 7:30 pm. The church has at its feet a wide square with a charming terrace with a very nice view from the church. It is the San Juan square. From here you can capture the best photos of the Cathedral of Arucas, although as you know, the correct thing to do is to call it Parish.
2. Old town and pedestrian streets of Arucas
A walk through its old town will take you to its pedestrian streets full of cafés and small shops. Notice how the famous centenary gray stone of Arucas is present in every detail of the village. As you may check in the pictures, the old town has its charm despite of the cloudy days which are so usual in the north.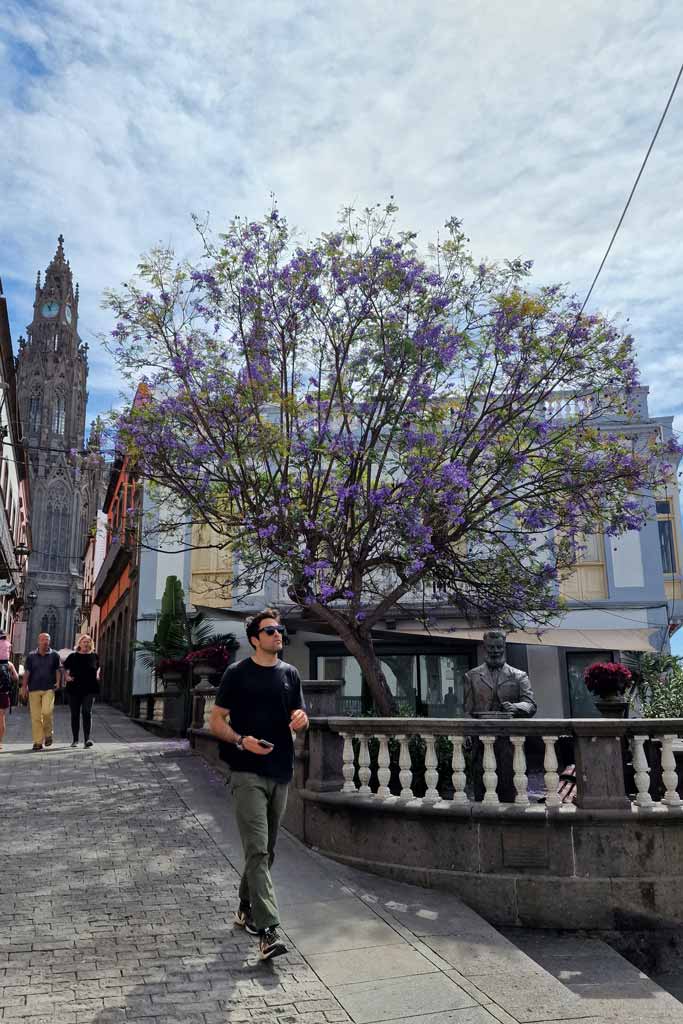 If you walk a bit around through its pedestrian streets Gourié and León y Castillo you can reach the House of the Culture (traditional Canarian house from the 18th century) and the town hall with its main square. The square is also quite nice, although much smaller than the one in San Juan. As you can see below, there are some quite instagrammable words with the name of Arucas.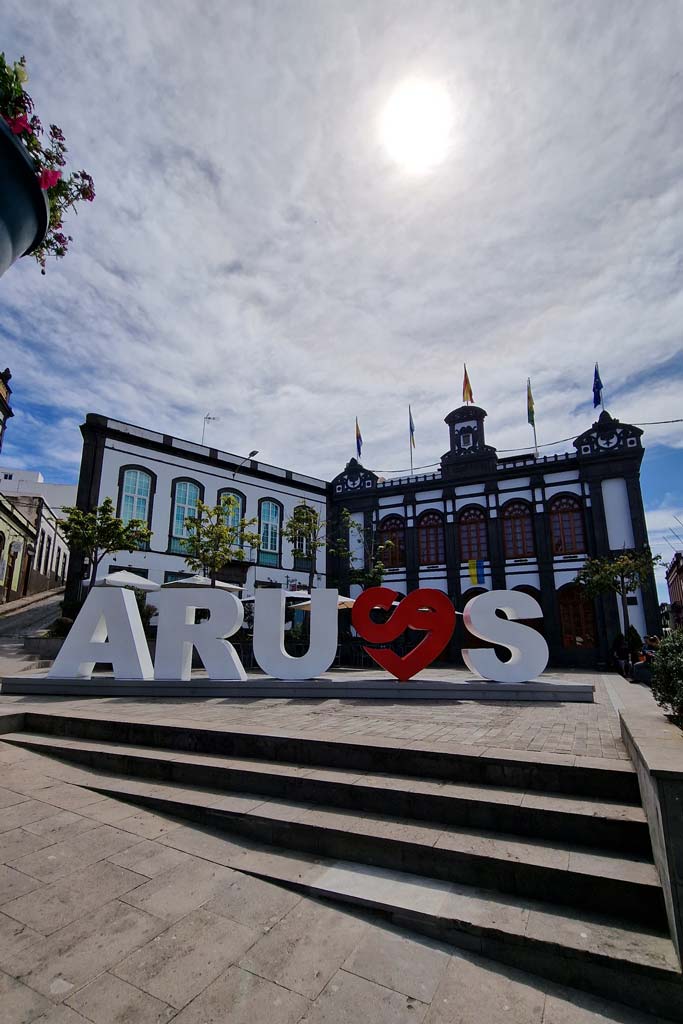 3. Arucas Park
Moreover, very near from the town hall we have a park with gardens and swings for the children. Here you can appreciate some local trees as the gorgeous Dragos. These trees are typical from the Canary Islands. The age from the dragos could be known because of its ramifications. This plant doesn't have growth rings as most of the trees. In the following pictures you can also see one of the sculptured trees of the park and a drago with the Arucas mountain at the background.
Next to the Arucas park is the Heredad de Agua de Firgas y Arucas. The building itself, as we see it, is one of the most beautiful in the city.
4. Arehucas rum factory, things to do in Arucas
One of the best things to do in Arucas is to visit the Arehucas rum factory. It is one of the best known rums from the Canary Islands. Here they will explain the entire artisanal process of obtaining rum from sugar cane. From the harvest, to a final tasting. In the factory they also have a small shop where you can buy all their types of rums: honey rum, white rum, aged rum, caramel rum, etc.
5. Banana museum
One of the new activities to do in Arucas is to visit its banana museum. We haven't gone yet because we are more than familiar with this type of plantation. If you want to visit authentic banana plantations, you can learn all the details about this activity, as well as the opinions of other travelers, here.
6. Gardens of the Marquise of Arucas
It is mainly a place for events, but its environment of 5,000 m2 of nature from the five continents will amaze you. These gardens began to be built in 1880 when the Marquis began to collect plant species, some endemic and others brought from different parts of the world.
7. Beaches of Los Charcones and El Puertillo. Things to do in Arucas coast
Another thing to see in Arucas is its coast. Here, Los Charcones and El Puertillo beach stand out, two of the beaches of Gran Canaria that have a Blue Flag. Well, really Los Charcones are natural pools and El Puertillo a small cove. In all this area of ​​the coast of Arucas you can enjoy surfing.
Restaurants in Arucas
If you are looking for restaurants in Arucas, below we recommend you our favorite ones.
✔ Restaurant Casa Brito: Service and products from first quality and therefore high prices. Its speciality is the grilled meat in a firewood oven. But we can say they offer all kind of food, even fish. To get here from the old town is about 5 minutes drive or 25 minutes walk.
✔ Restaurant De Enyesque Arucas: Enyesque means tapa in the Canary Islands, so that this is a pecking restaurant located in the city center. They combine the traditional food with the new.
✔ El Bautista. We visited it in 2022 and it appears in the video, but this restaurant has now closed. In its place there is now another establishment called La Catedral Bistró. We have not been able to go there yet. When we go we will let you know how it is.
Hotels in Arucas
In the town and its natural spaces there is a wide range of rural houses and holiday homes. We highlight the Emblematic hotel of Arucas and the beautiful Hacienda del Buen Suceso that we show you below. Anyway, we leave you with a direct link so that you can check all the accommodation options yourself. From its beaches, to its mountains and city.
How to get to Arucas
To get to Arucas if you come from the south, it is approximately 45 minutes by car from Maspalomas. There is no direct public transport from the south, nor from the airport. If you are not going to rent a car, you can always hire a private transfer. If you come from Las Palmas de Gran Canaria there are several bus lines that take you to the Arucas station. The direct bus is 234. You can see the schedules here. To visit Gran Canaria we always recommend renting a car, you can compare the prices of all car rentals, including local companies, here.
Video with all the things to do in Arucas
Below we leave you a video of what for us are the mandatory stops in Arucas and our visit to El Bautista restaurant. Remember that you have more videos about things to do in Gran Canaria on our YouTube channel and that you can activate English subtitles in all our videos.
Guides to Gran Canaria
Is it your first time on the island? Below are some articles that may be of help to combine with your visit to Arucas:
If you don't want to be reading blogs and articles looking for things to do and where to eat, you can save time thanks to our digital guides to Gran Canaria. Here you will find everything already organized with authentic places to visit with planned itineraries, places to eat that locals frequent and tips. You can see them all by clicking on the following image.