Anfi beach is a tourist area in the municipality of Mogán, in the south of Gran Canaria island. The beach itself is an attraction for many visitors, which is why it is sometimes overcrowded. Being in a bay, here the sea is super calm, making it a recommended beach for families. In addition, it has all the services: toilets, showers, hammocks, umbrellas, a restaurant area and even all kinds of water sports. Its main feature is its white sand, brought from somewhere in the Caribbean. Read on if you want to meet her with us.
Next to the beach there are also several shops, boutiques and a supermarket. Despite being a crowded beach, it has some attractions. We will mention all of them below.
Things to do in Anfi beach
✔ Swimming in Anfi beach
For many, Anfi beach is one of the best places to visit in Gran Canaria. They love its turquoise water and white sand. On the beach you can do practically all kinds of water activities. That is, rent a jet ski, skates, standing up paddle, kayaking, wakeboard, parasailing, banana… This alternative is ideal if you come to the island for a bachelor party to have a good time. On the other hand, you should know that the beach is also ideal for swimming, there are some buoys that will limit how far you can go.
✔ Visit Maroa Island
It is an artificial island with heart shape where you can enjoy a refreshing swim in the sea. To access the sea there are some direct stairs. Here the water is super clean and clear. So that, if you have goggles, you can enjoy snorkeling here or swim…
✔ Enjoy the beach Club Maroa
Within Maroa Island, it is the Beach Club Maroa and its restaurant. Here you can spend the day in their sun beds, have a drink or a meal. The food is so nice, so as the service.
We also recommend this place for bachelor or bachelorette parties in Gran Canaria. Although the price of the beach club is a bit expensive compared to the average of the island, since it is in a very touristic area.
✔ Take a boat to Puerto de Mogán or Arguineguín
There is a small port at Maroa Island where some boats departs to Arguineguín or Puerto de Mogán, so you can have a view of the coast. There are two companies operating here: Líneas Blue Bird and Líneas Salmón. We recommend you this activity for children.
✔ Practice scuba diving in Anfi beach
Next to the Marina which is at Anfi del Mar, there is a scuba diving center where you can arrange a course and enjoy diving in Gran Canaria. The company name is Scuba Sur Gran Canaria.
✔ Enjoy the sunset
If you are around this area, you can not miss one of the best sunsets of Gran Canaria from Patalavaca or Arguineguín. This town is very close to Anfi and can be reached on foot by two promenades: one promenade next to the sea that passes through the beaches of Aquamarina and Patalavaca. And another that goes next to the road. There are approximately 3 kilometers long until Arguineguín.
Restaurants in Anfi del Mar
To eat at Anfi, in addition to the Beach Club Maroa, you have right in front of the beach a quite beautiful place of yummy poké called Maroa Beach. The rest of the sites are quite touristy: La Posada, Mar de Tapas and Bella Pasta.
On the other hand, very close is the Michelin Star restaurant La Aquarela. It is located within the Aquamarina Apartments, between Anfi and Patalavaca. If you can afford it, this is a gastronomic must in Gran Canaria. Moreover, very close from La Aquarela it is the 222 SW Bar & Grill.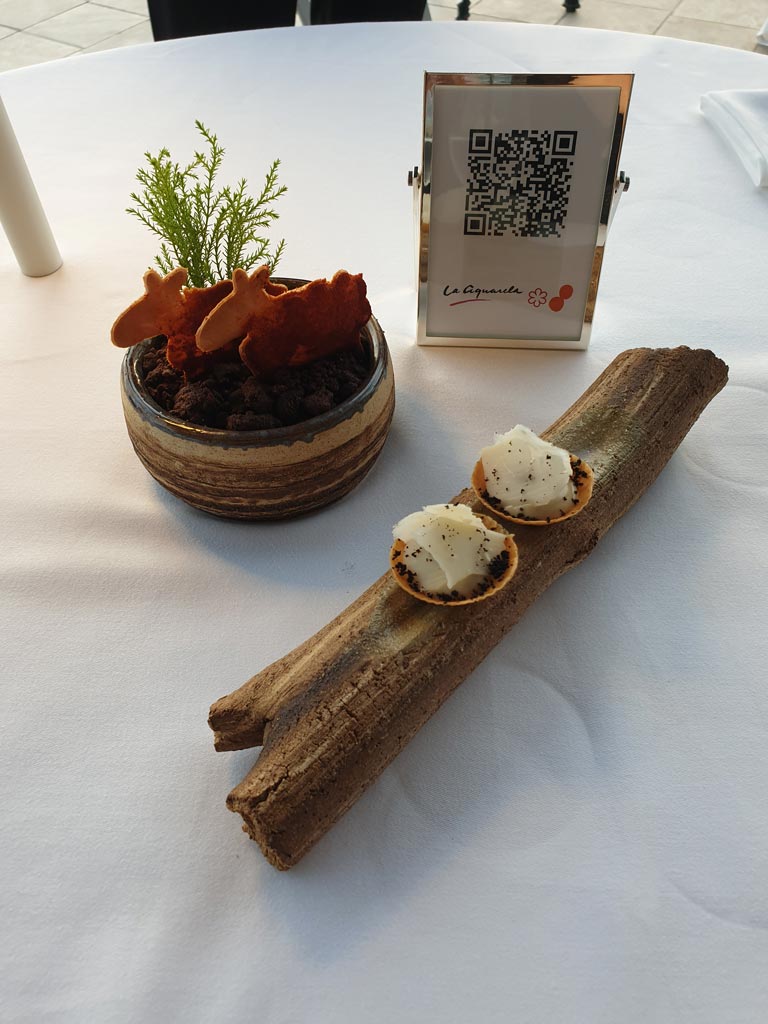 Finally, inside the Monte Anfi complex there is a very tasty Asian restaurant called Khun, but they only open for dinner. That is, from 6:00 p.m. to 10:00 p.m.
Anfi beach hotels
The Anfi coast does not have a wide offer of hotels, the complexes that surround it are of time sharing. These are Anfi Beach Club, Puerto Anfi, Monte Anfi and Gran Anfi and why not, you can buy a week here forever. In any case, a few steps away is the Los Caideros and Aquamarina area where you can find a holiday home or even stay at the Radisson Blu hotel. You can have a look at the available options below.
Where to park in Anfi
To park in Anfi you have two options. At the top of the beach there is a dirt car park, but it is quite far if you are loaded or with children. The best option is in the Monte Anfi hotel complex, which is covered and you can comfortably go down to the beach by elevator. The elevator is outside the parking lot, perhaps somewhat hidden, better ask the taxi drivers in the area where it is. Even if you are not staying at Anfi, you can park there. The two parking lots are paid and not cheap.
How far is Anfi from the airport and transfers
As we said before, Anfi is located in the south of the island. It takes around 40 minutes by car from the airport. Many travelers choose a private transfer to get to Anfi. You can check the opinions and prices here.
Video of Anfi del Mar
Then we leave you with one of our YouTube short videos around Anfi del Mar. Take a look and subscribe to our channel not to miss the next videos!
Finally, we want you to know that we have prepared for you with a lot of love a Guide of beaches and natural pools of Gran Canaria with more than 80 options to enjoy the sea around Gran Canaria. Here you will get to know all the beaches that are not in other guides or even on the internet. We also have some more guides of the island if you want to discover the restaurants that the locals frequent, non tourist places, itineraries per day, etc. Enjoy the real Gran Canaria with us!